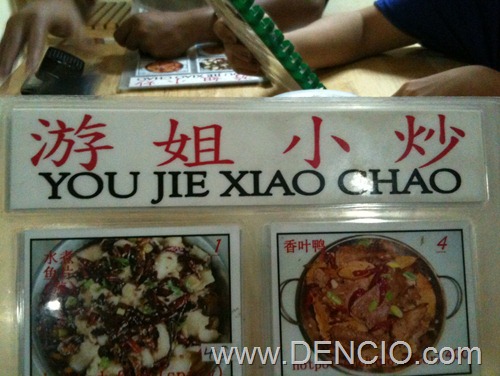 You Jie Xiao Chao Chinese Restaurant
6404 Camia Street, Guadalupe Viejo, Makati City
Tel: +63 927 7876999 or +63 915 4252972
Dinner Time: I have no Idea where we were going until we found ourselves along Camia Street. There were no signage – don't look for one. When you get to Camia Street, the best thing to do is to ask the street children/parking attendants where the Secret Chinese restaurant is and they will gladly point you to the right direction.
If you were able to find it. You wont be disappointed. The food was GOOD!
Their menu items were very unique. Some items you wont see in your typical Chinese Restaurant.
This place is a must try!
Spicy Chicken Php 260.00 (HOT)
Sautéed Chicken and Chili! Look at the number of chili! The waitress told us that this one is one of their bestseller and that it was very good. Honestly, I was not able to savor the goodness because it was too hot!
Fried Beans Php 120.00
Veggies…
Steamed Fish Head Php 450.00 (HOT)
Steamed salmon head with uber spicy yet flavorful tomato/chili sauce! This is their best seller. When we were there, almost every table have this. A Must try! But beware, a can of coke is not enough!
Self Serve Unli-Rice!
Chinese Honey Herbed Jelly (Black Gulaman) Php 40.00
A can is not enough to relieve the effect of the chili!
No Signage, Just look for the white gate! hahaha! Parking along Camia Street, at your own risk!
Comment ng isang bata: "Lahat Maanghang, kanin lang hindi!" LOL!
Hanggang Sa Muli! Paalam! 🙂
_________________________________
By: DENCIO

Originally Posted On: www.DENCIO.com
Do You Like This Post?
Subscribe to the RSS Feed
Follow me on Twitter
Like us on Facebook
Email Me