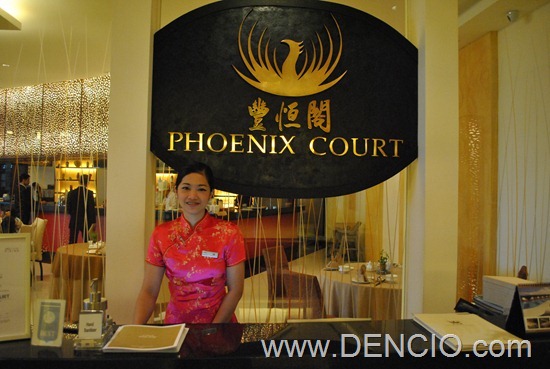 Phoenix Court
2nd Floor Tower Wing, The Bellevue Hotel Manila (Alabang)
North Bridgeway, Filinvest Corporate City Alabang, Muntinlupa City
Phone: (632) 771 8181 | Fax: (632) 771 8282
WEBSITE | FACEBOOK | TWITTER
If you live in the South of Manila, specifically in Alabang Area, Finding a Nice, Big, Upscale Chinese Restaurant is a bit of a challenge. If you and your family want to dine or celebrate an occasion in a Chinese Restaurant – "Banquet Style" – you'll probably find yourself having very limited options – so more often than not, you would just probably head to the mall or in another city! Well, Lets see, In Alabang, there's King Bee in Daang Hari Alabang, then of Course the newest kid in Alabang Town Center – PF Chang's, Luk Yuen, Superbowl of China, and my ever favorite Northpark.
BUT, if you are looking for a Big, Sophisticated, Reasonably Priced Chinese Restaurant which serves great food paired with an Excellent Service, Then head over Bellevue Manila and Try Phoenix Court. Perfect for Special Occasions and Family Gatherings.
BTW: Speaking of BIG! Did you know that Phoenix Court Manila probably has the Biggest (if not the biggest) Round Table and Lazy Susan in the Country! Yes, inside one of their function rooms, you will see this 30-seater round table with a huge working lazy Susan! Gorgeous isn't she?
But using her comes with a price. If I am not mistaken, You will have to consume Php 25,000 worth of Food and Drinks to be able to use this massive round table.
Now Moving Back. Like I said the place was Big with a High Ceiling, perfect for big groups. The design was Simple, Minimalist and Very Clean. Reminds me of Tao Yuan in Resorts World but this one was bigger. Tables had a good distance from one another, perfect for great conversations. It was well appointed and the service was relatively fast.
Phoenix Designed Wall
While waiting for your order, your meal will start with this free Steamed Peanuts.
Since I it was my first time, I ordered Dishes from the Chef's Recommendation Page of the Menu to be safe. And yes, I was not disappointed!
Above: Braised Beef Brisket in Hot Pot – P375.00 (+12% Vat +10% SC)
Below: Two Variety of Chicken (Stuffed and Kong Po) P490++
*Orders are good to share
Now, as expected, the braised beef was very good, the beef was tender, the sauce was flavorful. BUT the surprise of that day was the Two Variety Chicken. The Stir-fried variety was excellent but very predictable, what sets this dish apart is its better half. The Stuffed one.. According to the waiter it was made from chicken meat mixed with shrimps and spices, sandwiched between chicken skins then deep fried to perfection. Crispy on the outside, juicy and flavorful on the inside. It was really something new! (at least for me) 🙂
If you drop by Phoenix Court you SHOULD try this one! I'd definitely would go back for this dish!
Above: Pork Buns (3pcs) P141.00++
Below: Watermelon Shake P165++
Here is the rest of the Chef's Recommendation Part of the Menu:
I would definitely go back to this place. So if you find yourselves down south and looking for an amazing Chinese Restaurant. Go drop by Phoenix Court at the Bellevue Manila in Alabang. I'm sure you wont be disappointed! 🙂
Hanggang Sa Muli! Paalam!
_________________________________
By: DENCIO

Originally Posted On: www.DENCIO.com
Do You Like This Post?
Subscribe to the RSS Feed
Follow me on Twitter
Like us on Facebook
Email Me