Clean Home PH (www.cleanhome.ph)
Contact Number(s):
+639175691493
+6328187510
+6326171650
Almost three years ago, I decided to move out of my parent's house and find a place for my own. And in the process, I am sort of proud to say that I was able to manage without much pain. I am very domesticated, I can clean, wash the dishes, do the laundry – if I want to – but the reality is, I don't have the time to do that. The dishes part was easy, the laundry part was a breeze since laundry shops are everywhere however, the main hurdle was the cleaning. Most of the time, my one-bedroom apartment is empty since I have to go to the office during the day but what I realized is that even though there is not much foot traffic and even if you seal your room properly, dusts and dirt accumulate. They just do! Under the bed, behind the TV, behind the refrigerator, the floor, and the toilet and shower area. Then, there came a time when my regular sweeping and dusting does not work anymore – My home does not feel clean anymore! (goes to the shower, turn on the water, sit on the floor, hugs self while rocking back and fort! whispering Ang Dumi Dumi Ko…)
Bothered, I tried looking online for cleaning services but to my disappointment, there were no provider that caters the Las Pinas area. So what I did was ask around for recommendations from my friends. Fortunately, I was able to find one who caters to the areas of Paranaque and Las Pinas. It was was a home business, no online platforms and everything was manual. At first it was all good however after my 4th booking with them they became very unreliable. They cancel on the last minute, they send in-experienced cleaners etc. Good thing last year, I stumbled upon CLEANHOME.PH on Facebook.
It was super easy. Go to the website, log-in, book a date, and that's it!
Like most sites, you need to create a profile before you can book. After that everything is a breeze!

You can manage your booking in your Dashboard. Upon booking, the name of the cleaner wont appear immediately on your dashboard. The cleaner name would usually appear a day before your schedule. If you hover your mouse above the cleaner's name, his or her picture will appear. I usually book the general cleaning package – 3 hours, P750.

After every cleaning session, you are able to rate your cleaner – pretty much like Uber. And for your records, your cleaning history is stored in your dashboard for future reference and in case you forgot the name of your cleaner in case you want to request for him or her again.

Now for the cleaning part. For a one bedroom unit like mine, 3 hours is sufficient. Mostly what I ask them to do is mop and vacuum the floor, dust everything, tidy-up stuff, replace my sheets, vacuum the rugs, and thoroughly clean my toilet and shower. Well actually, I don't have to do it since they already have a system in place, I just want to emphasize. If you have time (you can actually book for more than 3 hours, just call ahead of time) you can ask the cleaner to clean up your cabinets and your refrigerators too!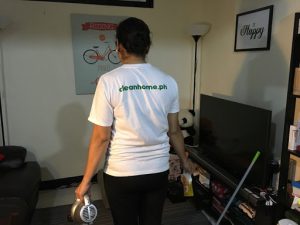 So far, all of my 3 bookings were excellent – except for the second time when ate Regina forgot to bring her vacuum cleaner, fortunately I have one at home. CleanHome's cleaners were thorough. My units smells brand new and they can really make up your bed! The cleaner arrives on time, mostly they come earlier than scheduled. They bring with them their own washcloths, cleaning sprays, and vacuum cleaner. Just tell them where to start and if you have special instructions and you are set. You can do other stuff while they clean.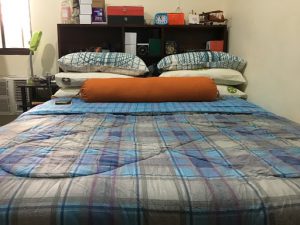 As for safety, I have not encountered any problems. So far, there were no lost or broken items. Usually, if the cleaner is cleaning up my bedroom, I am watching TV outside and if she needs to clean the living area, I stay in my room. I have not bothered keeping valuables – well I really should – but its a small home hehe. Watches are just lying around the bedroom, my wallet on the table and fortunately, no untoward incident yet. So, as far as I am concerned, safety has not been a problem. Which is good.
I usually book a general cleaning with CLEANHOME.PH every quarter. After every cleaning, I ask the cleaner if they want anything to eat or drink – none of them has eaten so far but most of them ask for water. Upon completion of the cleaning process, I can really feel and smell cleanliness! Really, I can sleep on my shower's floor clean! I love it! CLEANHOME.PH really makes my living condition easier and of course, cleaner! CLEANHOME.PH is perfect for condo living! Keep it up guys!
And before I say goodbye, I found in my Dashboard that I have a referral code: "DENCIO" I am not sure if it works (I have not used any discount coupon before) but you can try to use it on your first booking!

As of the time of writing, CLEANHOME.PH is cleaning the following areas (coverage):
San Juan City
Alabang
Paranaque City
Las Pinas City
Manila City
Pasay City
Pasig City
Taguig
Quezon City
Mandaluyong
Eastwood
Ortigas
BGC
Makati City
And they clean everyday, Monday-Sunday, from 8:00am-9:00pm
Hanggang sa muli, Paalam!
DENCIO