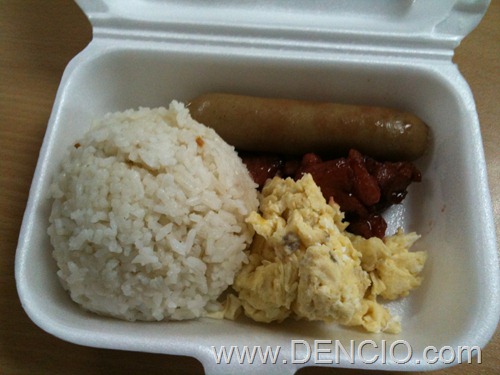 I was finally able to try the KFC a.m.™ Fully Loaded Breakfast this Morning. We had it delivered from Alfaro (Makati) branch. And how was it? It was great! Now I can really say that I can ditch my good old favorite "Big Breakfast".
Like I said, this is the complete package. Super Busog Morning For Me!
You'll get 1 cup of garlic rice, 1 pc Sausage, several saucy tocino slices and scrambled eggs and of course, the choco-chip pancake. It was delicious and very filling! Perfect for heavy breakfast lovers like me! I am not sure if they serve this with sunny side up eggs. Will ask next time.
And to complete my fully loaded breakfast, the choco-chip pancake!
IT WAS DELICIOUS! Considering that it was not warm anymore. The pancake was served with lots of butter and what made it more special was the super thick pancake syrup. Compared to the usual fast-food pancake syrup, this one was thicker and tastes better. Their pancake is a must try! It was like eating at pancake house – only a lot cheaper!
Aside from the Fully Loaded Breakfast,I also tried their a.m. Snacker.
This one was like the crispy chicken fillet sandwich, but, this one has scrambled egg. 🙂
Overall, KFC's a.m. Breakfast Items are good alternative to your usual fast-food breakfast. If you are tired eating sausage sandwiches and limited choices, you've got to try this one.
One major minor issue I have with their menu is they don't serve hot chocolate! Aside from the fact that it is not offered in all their branches.
For more info on their Breakfast Menu and which branch serve breakfast click HERE.
Hanggang Sa Muli! Paalam! 🙂
_________________________________
By: DENCIO

Originally Posted On: www.DENCIO.com
Do You Like This Post?
Subscribe to the RSS Feed
Follow me on Twitter
Like us on Facebook
Email Me