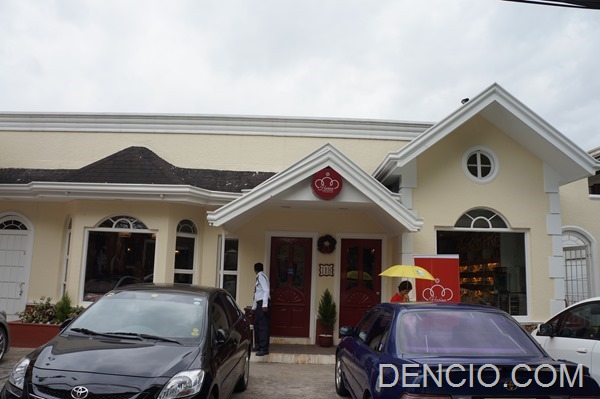 Harina Artisan Bakery Café (Formerly Monsees Café)
Location: 118 Katipunan Avenue, White Plains, Quezon City
Contact Number: (02) 3526721
Store Hours: Monday to Sunday, 6am to 9pm.
Facebook: https://www.facebook.com/harinacafe
Twitter: @harinacafe
Instagram: @harinacafe
Formerly know as Monsees Café, Harina Artisan Bakery Café officially re-opened its doors to the public this November. From a smaller neighborhood bakery, Harina is now ready to accept a bigger audience and offer a more extensive line-up of dine-in and take-out breads and meals.
ar·ti·san [ahr-tuh-zuhn]: a person or company that makes a high-quality or distinctive product in small quantities, usually byhand or using traditional methods.

Upon arrival at Harina Café, you will be greeted by a couple of beautiful red doors which will lead in to a very homey and cozy dining area. A bunch friendly staff will assist you inside the cafe. The café is divided into 2 parts, there's the dining area and the take out area where you can choose and buy their Artisan Baked Goods.
What makes Harina Artisan Bakery Cafe special?
"Everything is a labor of love. The baking is done the traditional way, without shortcuts and chemical additives. Since chemical additives are not used, the flavors of each ingredient are fully developed. It wasn't necessary to add chemicals to bread for centuries and Harina believes that it still isn't. Nothing less than premium ingredients are used. The breads are hand rolled. They do not mass-produce their breads, they are baked in small batches rather than on a vast assembly line. An interesting corner is their open baking area which allows customers to see how some of their products are made."
Harina Café's core products are breads thus most of their best sellers revolve around their artisan baked goodies. They serve all-day breakfast meals and their bakery is stacked with amazing breads all day long. Some of their best sellers were the breadsticks, Spanish bread, and the apple cinnamon. As for the main courses, here are some of the dishes that you must try here at Harina Café.
Bread Sticks: The Perfect way to start your meal. This is also perfect while waiting for your order and while chatting with your friends and family. It comes with 2 dips, the savory cheese dip and the super rich chocolate. I like to have them both, alternating sweet and savory from time to time. The bread sticks has a very mild flavor to it and it was super crunchy just the way I like it. The bread sticks and dips are served for dine-in, but for take out, you can only buy breadsticks to go.
Bloomin' Bread (Harina Special): A flower inspired Italian loaf with basil and melted cheese. I really enjoyed this one for 2 main reasons. (1.) It was perfectly baked, crusty on the outside yet super soft and chewy on the inside (2.) The melted cheese, bread, olive oil, and balsamic vinegar was just a fool-proof combo! This one is intended for sharing since the bread is quite big. This one reheats really good to! I froze the left over then after 2 days I popped it in the microwave for a few minutes, surprisingly the texture and the taste was almost the same as the freshly baked one.
Chicken Caesar Sandwich: Grilled Chicken with Egg, Lettuce, Bacon and Cheese! Love the flavor, although at one point I bit a part that was too salty but other than that, the combination of flavors was really good. It is a bit messy to eat but it is worth it. The best way of eating it is flatteing it out and biting on it to get the flavor from every later.
Waldorf Salad Sandwich: A Salad + Sandwich Combo. It is a bread filled with chicken, apple and celery. Honestly the Waldorf salad itself was ok but it is probably just me but I am not a big fan of making it into a sandwich and eating them altogether. Personally, It's a bit weird.
Breakfast Tart: My Favorite!! Puff Pastry filled with cheese, spinach eggs, tomatoes and bacon! What's not to love right?! The flavor combination was really good. The puff pastry was flaky and easy to cut together with the toppings. Like the name suggests, this one contains all the breakfast stuff that you love! It's like quiche but with bread.
From the Savory Dishes, let us move now to the sweets!
Strawberry Cheesecake Stuffed French Toast and the Peanut Butter and Chocolate Stuffed French Toast: Ahhh.. French toast but way way better! I was expecting something super sweet but I was wrong. The balance of flavor was just right! Even the Chocolate one, you can actually taste the banana in every bite. The strawberry flavor was a bit subtle but you can still taste it in the filling. If you are looking for something sweet yet filling for your meal then this is the way to go!
So if you want something really really sweet then go for Harina Café's version of the Cronuts – the Laminated Donuts! It comes in 3 sweet flavors: Peanut Butter, Chocolate and Blueberry Cheesecake. Yes there is flakiness, yes there is flavor but it was just too sweet for me. I can't even finish a single piece.
Here's something classic, A brownie with a cream cheese icing. The brownie was super moist and perfectly sweetened and the cream cheese topping was jut a perfect compliment to the sweet brownie base.
True to their word of being an artisan cafe, Harina Café offers really good bread products which are not only unique but also very flavorful and filling as well. Most of their dishes are served in big portions and are priced very reasonably. They also bake cakes (made to order) and other baked goodies such as muffins and cupcakes. Although their focus is on bread products, Harina Café also offers rice meal to those who cannot live on bread alone (like me). I have yet to try them but II 'm pretty sure that they are as good as their bread counterparts.
By the way, Their coffee was good too! 🙂
Here is Harina Café's Menu and Prices:
Hanggang sa Muli Paalam!
_________________________________
By: DENCIO
Originally Posted On: DENCIO.COM
Do You Like This Post?
Subscribe to the RSS Feed
Follow me on Twitter
Like us on Facebook
Email Me
Read More Posts HERE