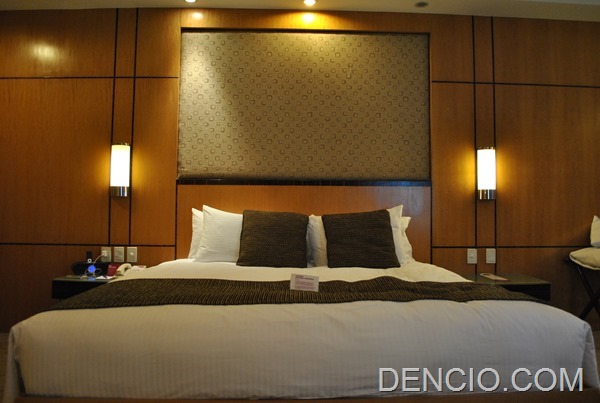 Crowne Plaza Manila Galleria Hotel
Address: Ortigas Avenue corner Asian Development Bank Avenue, Quezon City, Philippines
Location: Right Beside Holiday Inn and Robinsons Galleria Mall
Contact Number: +63 2 6337222 , Toll Free: 1800 1888 0188
Email: mnlcp@ihg.com
Website: http://www.ihg.com/crowneplaza/cpmanila
Facebook: https://www.facebook.com/crowneplazamanila
Twitter: http://twitter.com/CrownePlazaMNL
When you hear about Crowne Plaza Manila Galleria, you immediately think of it as a business hotel – yes that is true – but did you know that Crowne Plaza also makes a good hotel for city staycationers? Here it goes, when I stayed at the Crowne Plaza Manila Galleria recently, my room category was under their Club Lounge category so I checked-in at the 19th floor of the hotel instead of the usual check in counter at the ground floor lobby. The check-in was super smooth and the staff on the lounge was super friendly (I would assume that they assign their best staff at the lounge) and while she was preparing my room key and check-in documents, the Club Lounge offers coffee, light snacks and refreshments. I guess my staycation already started upon check-in.
As soon as we are done with our snacks, I was given the keycard to my room. They offered help to carry my backpack but I told the staff that I can manage. So I went down to the 11th floor where my room was located. Upon entering my room, I was really amazed how good and big it was. Crowne Plaza Manila is a sister company of Holiday Inn Manila Galleria but they have way better rooms. Everything is modern, functional and sophisticated.
My room category is a corner Grand Deluxe Room, just a few level above the standard room but it was much better when it comes to amenities and space. The toilet and bath is huge, there is a tub (separate from the shower), there's a walk in closet, coat hanger, huge king bed, a small in-room living area and a nice work station. There is a welcome fruit and sweets platter courtesy of the club lounge.
Both WiFi and LAN connectivity are available inside the room. Internet is not free in all rooms but it is complimentary on this room category. It was super fast! I could say that this is the hotel with the fastest WiFi that I have ever stayed in to in here in the Philippines. Being primarily a business hotel, this is a great feature! The connection was super consistent too! Connecting is a one time thing… you get re-connected automatically if you leave the hotel. How fast you ask? 22mbps! I was able to download a lot of "stuff" in no time! Check out the screenshots below.
The bed was super comfortable and the pillows were excellent! I usually have problems with hotel pillows being too soft or too fluffy, but they have the perfect pillows for me! I had a great night sleep. Entertainment is not a problem as well, there is a TV with digital cable and easy to use channel guide. There is also an iPod dock for playing your favorite tunes. The shower was amazing, it is one of IHG's signature feature. They may not provide rainfall shower but their showers have amazing water pressure and consistent water temperature. I also love the idea of the separate shower and tub (I am not a fan of the shower+tub combo).
Since Crowne Plaza Manila Galleria is a business hotel by heart, they do have an amazing work station/area. There is LAN internet connectivity, super comfortable swivel leather chair, and even phone directories. But for a staycationer like me, this is just perfect for browsing the web and blogging.
No need to leave the comfort of your hotel room to relax. Your room has a lot of features and amenities to keep you relaxed and occupied. You can watch a movie, read the newspaper, listen to music, surf the net, relax in a lounge seat or sleep all day. If that is not enough, you can always call for a room service or an in-room massage.
Outside your room, you can always enjoy the pool (which is shared with Holiday Inn), you can go to the bar, you can work out in their gym, dine in their different restaurants, and the best part is, Crowne Plaza Manila Galleria is directly connected to Robinsons Galleria Mall. Shop till you drop if you love shopping. Alternatively, you can also walk to SM Megamall, Podium, Shangri-La Mall or ride a cab for a quick trip to Greenhills Shopping Center. You'll never run out of (non-business) things to do when in Crowne Plaza Manila Galleria. But if you're feeling lazy, anti social, thrifty or just want to be alone, you can always just stay in the Club Lounge. It serves all-day refreshments, light snacks, even cocktails (read more here) all for free!
Breakfast is served both in 7 Corners and the Club Lounge. (My review here)
The Room service food was amazing as well! Upon calling, the food was delivered within 20-30 minutes. I had some salad, mac and cheese and coffee. The price was also very reasonable considering that the serving size was to share (the mac and cheese is in the kids menu). The room service attendant was very friendly and polite. In-room entertainment and in-room food, perfect for a lazy staycation.
Here's Crowne Plaza Manila Galleria's Room Service Menu with Prices and Rates.
You really can't really run out of things to do during your stay at the Crowne Plaza Manila Galleria. You'll probably find yourself running out of time and money. 🙂 Same with check in, check out was smooth as well. My stay at Crowne Plaza Manila Galleria is truly one of the most memorable staycations I had here in the city. Had a lot of fun!
Hanggang sa muli, Paalam!
_________________________________
By: DENCIO
Originally Posted On: DENCIO.COM
Do You Like This Post?
Subscribe to the RSS Feed
Follow me on Twitter
Like us on Facebook
Email Me
Read More Posts HERE