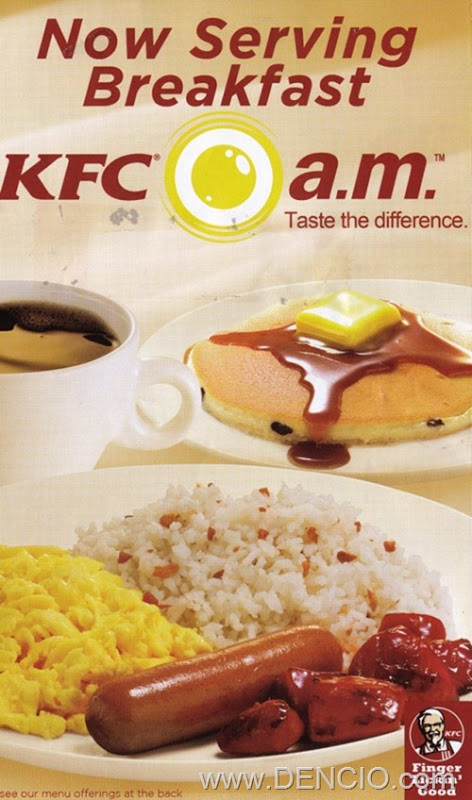 Selected KFC Stores in the Philippines are now Serving these Hot new Breakfast Items.
What caught my attention was their KFC a.m.™ Fully Loaded Breakfast! It looks very good and very filling! All your favorite breakfast item in one meal!
Should I say goodbye to my favorite "Big Breakfast" Now?! We'll See…
KFC a.m.™ Fully Loaded Breakfast P90 (Ala Carte) P105 (with regular softdrink) P120 (with coffee)
There are two variants: The Filipino Fully Loaded Meal and the Breakfast Steak Meal
Here are the other KFC Philippines a.m.™ Breakfast Menu and Prices:
They were giving out flyers here in our building this morning. Will try the meal tomorrow.
And look! There are promo coupons too!
Tried Calling KFC Delivery Hotline 887-8888, The rep said it is only available for take-out and dine-in. Available on Selected Branches only. BUT, KFC Alfaro (Makati Branch) Delivers Breakfast Just Call 840.4996/840.4998.
Breakfast is served until 10:00 AM.
UPDATE: List of KFC Philippines Stores/Branches that serve breakfast
Alfaro (Makati)
Caltex Buendia
Congressional
Eastwood
La Salle
Petron NLEX
People Support
Shell SLEX
South Station (Alabang)
Welcome Rotonda
Hanggang Sa Muli! Paalam! 🙂
_________________________________
By: DENCIO

Originally Posted On: www.DENCIO.com
Do You Like This Post?
Subscribe to the RSS Feed
Follow me on Twitter
Like us on Facebook
Email Me