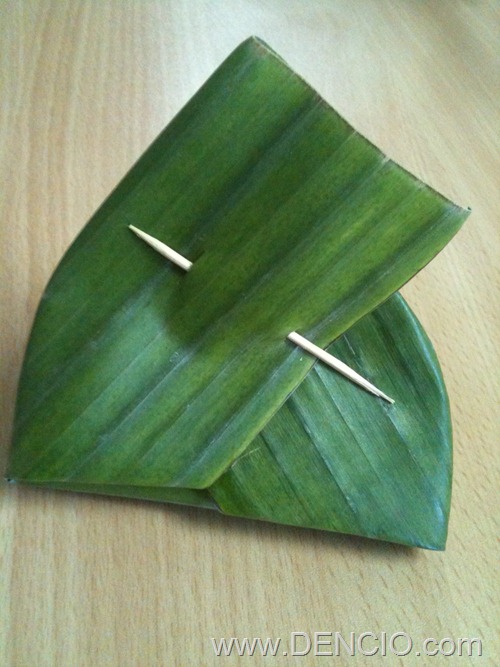 I mean Really, you have got to try this! 🙂
One of my officemate brought this Suman this morning.
I like the packaging, unlike other suman out there, this one was not oily! It was neatly packed in a clean banana leaf. I was expecting something regular, like a sticky rice suman ala Antipolo. But What's inside was a surprise.
It was a Super Special Suman. Halayang Ube and Leche Flan Wrapped in a Sticky Rice Suman! This suman tastes sooo good! No need for additional sugar, coco jam, or chocolate. It was delicious on its own. Althought it may look sweet because of the halaya and leche flan, but its actually not. The flavors were very harmonious, just right!
I love eating Suman, I like Halayang ube, and I love leche flan. So the three of them combined together… WOW!
By the way, this is Aging's Delight Suman. Tagged as "Ang Original Suman na Espesyal sa Bagong Ilog". They are located in Pasig Blvd. Bagong Ilog Pasig City. The minimum order is 50 pcs. The suman is priced at P12 each. You also need to pre-order a day before then drop by the next day for pick-up. Aside from suman, they also sell Halayang Ube, Leche Flan, and other Kakanin.
For more information on Aging's Delight, You may call them at (02) 6710172 or visit their Facebook Page. I am not familiar with the place, if you are from Pasig, maybe you can shed some light on the location. 🙂
Again I love this Suman, You have to try it! This is perfect for the coming Christmas Season!! 🙂
I WANT MORE!
Hanggang Sa Muli! Paalam!
_________________________________
By: DENCIO

Originally Posted On: www.DENCIO.com
Do You Like This Post?
Subscribe to the RSS Feed
Follow me on Twitter
Like us on Facebook
Email Me