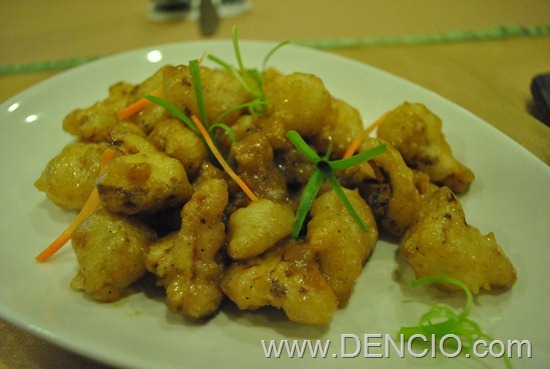 For most Pinoys, lent is the time of the year where they abstain from eating meat. But the problem is, there are not a lot of non-meat choices around – worst, not all of them taste good. Well, Max's Restaurant has some good news! This Lenten season, aside from their regular Bangus and Shrimp Dishes, they will offer 3 new guilt-free dishes for your enjoyment this season of Lent!
First: Cauliflower Puffs! This is a great way to feed your kids with veggies without them knowing. It does not taste "gulay" at all. It's really good and light. (P160.00)
Second: Sizzling Seafood (Cream Dory, Shrimp, and Squid) with Honey Bagoong Sauce! The honey and bagoong sauce has a good balance of saltiness and sweetness. It really complements the deep-fried seafood. (P265.00)
Third: They named this " Adobong Kangkong Stuffed Tofu" but actually, the adobong kangkong is sandwiched between slices of fried tofu. So technically it is not "stuffed".. enough about the technicalities. :p This dish is straightforward. If you know adobong kangkong and fried tofu.. then you'll have an idea on what this dish will taste like! Healthy Good! 🙂 (P150.00)
That's it! If you are looking for some Lenten dishes especially during Fridays, why not try these new dishes from Max's! They will be available Starting 01 March 2012!
Hanggang Sa Muli! Paalam!
_________________________________
By: DENCIO

Originally Posted On: www.DENCIO.com
Do You Like This Post?
Subscribe to the RSS Feed
Follow me on Twitter
Like us on Facebook
Email Me