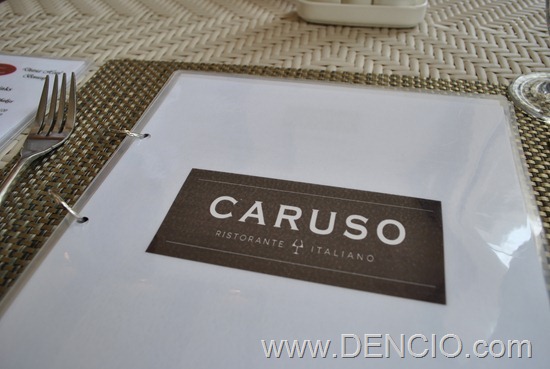 Caruso Ristorante Italiano Boracay
The District Boracay, Station 2 Boracay Island
Website: http://www.carusoristorante.com/
A brainchild of Dario Gardini, Caruso Ristorante Italiano Boracay is the second branch of the famous Caruso Ristorante Italiano in Nicanor Garcia St. Bel-Air Makati and is currently the only Restaurant inside The District Boracay. Caruso serves amazing Italian Dishes. They make their every dish as authentic as possible by using only the best Ingredients and prepare it the Italian way.
When I stayed in The District Boracay, I was able to try some of their dishes. It was really good! Caruso is located along Station 2 and is near D'mall and Starbucks Coffee. They serve amazing Italian Dishes all day long and at night, they also serve cocktails and drinks along the beach to complement your wonderful dinner. The price of the food was reasonable enough considering that they serve quality Italian Dishes. Prepare to spend around P600-P1,000 for a meal.
Lunch Started with this Delicious Crostini ai-funghi-porcini or Toasted Bread with porcini mushroom sauce. I don't eat mushrooms but this one was an exemption. I really love the flavorful mushroom sauce on top of the freshly toasted bread. The sauce was creamy and has a lot of different yet light flavors to it paired with the texture of the mushroom and the bread, It was a perfect way to start your meal.
(Above) Crostini ai-funghi-porcini P350.00+
(Below) Involtino di pollo alla salvia P430.00+
Next stop was the Involtino di pollo alla salvia or Chicken Breast rolls in Novarese Style. Chicken breast cooked with this delicious and rich cream sauce served with one of the best mashed potatoes I had in a while. The chicken was tender and it has some filling in it. Reminds me of Cordon Bleu only this one, it was not fried. The mashed potato on the side was exceptional, I love the texture – it was not mashed to the point that it becomes very creamy – you can still bite into the small pieces of potatoes. The creamy chicken breast combined with the lightly-seasoned mashed potato. Yum!
The next one was the Tagliata di manzo al rosmarino or Slices of beef tenderloin in rosemary leaves. I find the flavor of the beef a bit light and underwhelming. Yes, you can taste the rosemary and reduction sauce but apart from that there was not much into it. Although the beef was tender, I had to add a few dashes of salt and pepper for it to taste better.
(Above) Tagliata di manzo al rosmarino P590.00+
(Below) Panna Cotta P240.00+
This panna cotta was one of the smoothest I have tried so far. It was perfectly cooked and super rich, smooth, and not to sweet, just the way I like it.
(Above) Tagliatelle alla crema di tartufo e Parma ham P440.00+
My favorite part, the pasta! I must tell you, these two pasta dishes were phenomenal! The Tagliatelle alla crema di tartufo e Parma ham (Home made tagliatelle with truffle cream and parma Ham) has a very light cream sauce but it was bursting with flavor. Honestly, I don't know how truffles taste but it definitely must be one of the source of the super delicious flavor in this dish. I love the saltiness of the Parma ham, the lightness of the pasta sauce and the unique texture of the home made pasta. This pasta dish is definitely a must try However, you have to eat eat while it is still warm. 🙂
Wait! There's another one!
Gnocchi Caruso (Gnocchi with cream, ham and cheese) is another must try pasta dish in Caruso. This is not your typical pasta, Gnocchi ("noki") is a pasta made from potatoes. It has a chewy and spongy texture to it and perhaps because of that, it is able to absorb a lot of flavor! You can really taste the cheesy flavor in every piece of Gnocchi. This is the first time I have tried this kind of pasta and it will definitely not be the last!
(Below) Gnocchi Caruso P420.00+
(Below) Quattro Stagioni (Four Different Tastes) P620.00+
This wont be an Italian meal without a Pizza! Pizza, how it supposed to be! Freshly tossed crust topped with only the best Italian Ingredients. This is the way a Pizza should be! Simple yet packed with flavors!
Since The District Boracay still don't have their own restaurant, breakfast is served at Caruso as well. Definitely these are not Italian breakfast! Just the good old Tapsilog and Longsilog! 🙂
Overall, Caruso Serves Top Notch Italian Dishes. I love how they want to keep the authenticity of every dish that they serve. Everyone should be able to try an Authentic Italian Dish every now and then. Good thing Caruso Ristorante Italiano is just around the corner, whether you are in Makati or having a vacation in Boracay.
Hanggang Sa Muli! Paalam!
_________________________________
By: DENCIO

Originally Posted On: www.DENCIO.com
Do You Like This Post?
Subscribe to the RSS Feed
Follow me on Twitter
Like us on Facebook
Email Me
You might also like: