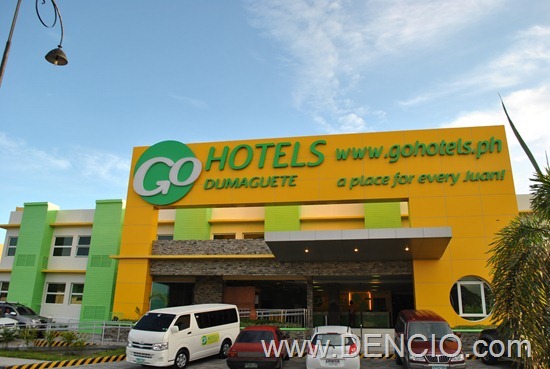 Go Hotels Dumaguete
Robinson's Mall Dumaguete, Dumaguete City
Website: http://gohotels.ph/dumaguete
You planned on going on a trip. You got a really huge discount on your Airline Ticket which you bought 6 months ago. Suddenly, an unexpected expense comes in your way just when your trip is just around the corner. Do you cancel your trip because you don't have enough budget for a hotel?
Don't!
When travelling, the major expenses are usually the Fare and Accommodation. Nowadays, a super cheap fare is being offered on a daily basis but when it comes to a decent, low-cost accommodation, you really have very limited choices. Either you get a low-cost run-down hotel or a Motel. That's when Go Hotels Come to the rescue. Where can you get a Nice, Clean, Decent, Accessible Hotel for just P800.00* net and still enjoy all of these amenities?!
*Depends on the Promotion
Most of the time, when we travel, we are out of the hotel the whole day because we are busy exploring the city and its different attractions. We only stay in our hotel room for a comfortable sleep, Shower, and to secure our belongings.
Go Hotels Dumaguete offers you all that you'll need for a comfortable and worry free travel. You have a nice bed, an amazingly comfortable orthopedic pillow, a clean shower, TV, WiFi (Which is super slow I Must Say), and an electronic safe for your valuables. You are also conveniently located beside a mall which is a few minutes away from the City Center.
Similar to other Go Hotel Branches, Go Hotels Dumaguete offers the same quality of service and the same amenities for the budget conscious traveller like you and me.
Go Hotels Dumaguete is a great accommodation choice whether you are in a budget or just being thrifty, But it is not that perfect. First, the WiFi Sucks, it was painfully slow even just for Facebooking and Twittering via my Phone. Second, even though it is located few meters away from a Mall, there was no 24-Hour Convenience store for your late night or early morning needs. Not even a store to buy a bottle of water. Third, like most budget-hotels, the wall-mounted pull-out workstation table was a bit awkward to actually work on. Just look at the picture above. Lastly, I need 3 pillows for a comfortable sleep, they only provided 2. When I asked how much will it be for an extra pillow, they said it will cost P200. Huwhattt?! P200 for an extra pillow? 5-Star? You realize that I only paid P800.00 for this room… if I had known that an extra pillow will be worth P200 I should have just reserved another room just to have 4 extra pillows! (I am just being OA but you get the point right? hahahaha!) P200 is just ridiculous!
But of course, those were just minor set-backs. Overall, it was still a GREAT experience as always and a STEAL! I was not kidding when I said I was able to book this room for only P800 pesos all-in! Like the other Go Hotels, The check-in was fast and hassle free. The rooms were clean, there were plenty of sockets for all your gadget charging needs, the rainfall shower temperature was consistent and the water pressure was great. There was no bidet. There was a working exhaust fan in the toilet. The Chiro-Pillow was super Comfortable. The Location was perfect, it was beside the Ceres Bus terminal which was very convenient because we were headed to Bacolod by bus. There's an In-Room Massage service for your pampering needs and best of all, all rooms have windows! 🙂
So, If you are planning on travelling to Dumaguete City, Go Check out Go Hotels. I am sure you wont be disappointed! It is truly a place for everyJUAN! 🙂
Oh did I mention I was re-visiting Bacolod from Dumaguete, Guess Where I stayed? Next… 🙂
Hanggang Sa Muli! Paalam!
_________________________________
By: DENCIO

Originally Posted On: www.DENCIO.com
Do You Like This Post?
Subscribe to the RSS Feed
Follow me on Twitter
Like us on Facebook
Email Me