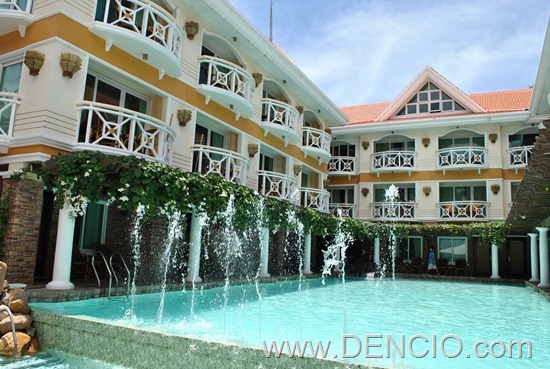 Boracay Mandarin Island Hotel
Station 2, Boracay Island, Malay Aklan Philippines
Contact Numbers:
MANILA (+632) 567.1672 | (+632) 524.4759
BORACAY (+6336) 288.4999 | (+6336) 288 599
WEBSITE | FACEBOOK PAGE
First of all, let me start by saying that contrary to the popular belief, Boracay Mandarin is not in any way related to The Mandarin Oriental Hotel in Makati. They are not sister companies whatsoever.
Moving on… 🙂
Like me, I know that a lot of travellers nowadays want to a DIY travel Itinerary. Who wouldn't? Aside from the fact that it is relatively cheaper than a packaged tour, a DIY itinerary is very flexible and can be tailored to the needs of the travellers. But lets admit that sometimes, you just don't want to lift a finger during your travels – it is after all a vacation so why stress yourself right? Given the right package and if you can afford it, why not do it from time to time?
So when Boracay Mandarin offered a super affordable Promo Price at a Travel Expo that I attended, I decided to give it a try. How much you ask? I think it was just around P5,500/pax for a 3D2N triple sharing with free Breakfast and transfers from Caticlan! That is sulit! How? I'll show you why in a bit.
The package starts when you reach Caticlan Airport. A van will pick you up at the Airport and bring you to the Exclusive Fairways and Blue Water Lounge and Ferry Terminal. This is where some of the high end resorts dock their private boats for their guests. From here on, you may opt to turn on your lazy vacation mode. Your bags will be carried to the boat for you and you wont have to wait for other passengers, the boat will leave even if you are the only guest going to the Island.
Upon reaching Boracay Island, you will be fetched by an air-conditioned van and will be escorted to the resort. Depending on the time of your arrival, you can either check-in or wait for your check in time at the hotel lobby. While checking in (or waiting), you will be greeted by their friendly front desk staff by a bunch of cold mentholated towels for a quick refresh. You will also be given a stub for your breakfast and your Frozen Lemonade Welcome Drink which you can claim at Don Vito Restaurant. Once the check in is complete, you will now be escorted to your room. Now, you are officially on Vacation!
We stayed at a the Premier Sea View room of Boracay Mandarin. Since the hotel is a bit recessed from the shore, Technically there is no direct view of the Ocean, but you can still see it. It was more of a Pool View Room. 🙂 The room was Huge, there were 2 double beds inside and yet there is still plenty of room to move around… it can actually fit 4 people in. It has a nice veranda facing the pool, a big TV, Wi-Fi Connectivity, Mini Bar, Robes, Safety Deposit Box, a Work Station, a nice-clean-yet a bit outdated Toilet and Bath, complimentary water, and a nice set of toiletries.
After 3 days and 2 nights of Boracay Partying, Chilling, Dining, and Shopping. It is time to check-out. Upon check-out you, again, you will be riding an air-conditioned van to the Pier then ride the private boat to Fairways and Blue Water Port. From there, they can either bring you to the Caticlan Airport or assist you in riding a van going to Kalibo.
Sulit right? If you still don't believe me, I'll show you a sample computation.
One night at Premier Sea View Room cost around P10,500/night for 2 = P21,000
Extra bed P1,500/night = P3,000
Extra breakfast P400 = P800
Transfers P250 = P500
TOTAL = P25,300 or P8,433 per person.
P8,433 – P5,500 = You saved P3,000!
For only P5,500, You get all the luxuries of a 5-star accommodation for a not so 5-star price tag!
I am not sure if they still currently offer this package… better call them to check! 🙂
Hanggang Sa Muli! Paalam!
_________________________________
By: DENCIO

Originally Posted On: www.DENCIO.com
Do You Like This Post?
Subscribe to the RSS Feed
Follow me on Twitter
Like us on Facebook
Email Me