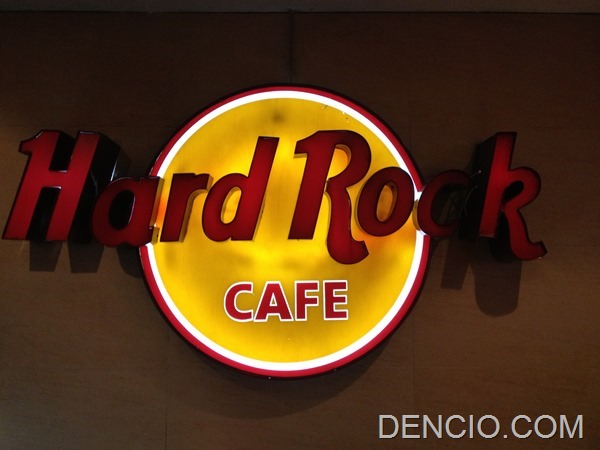 Hard Rock Café Makati
Glorietta III, Ayala Center Makati City
Contact Number: (02) 893 4661
I did not realize until recently that dining in Hard Rock Café Makati is expensive. To make it even more expensive, you have to pay a non-consumable cover fee amounting to P300-400 per person. This covers only one free drink – Soda, Iced Tea, or Local Beer. Especially during Friday nights when there is a live band, you have to pay a cover fee just to eat dinner. A cover fee which is charged on top of your dinner costs.  I have been to Hard Rock Café Makati several times already but all those visits were social events or company sponsored so I did not bother checking out the menu prices. But this time I was a bit conscious on the costs – although we were there for a company event – we had to stick with a budget. I tried googling the prices for menu of Hard Rock Café Makati but I just cannot find one online. So when we were there, the fist thing I did was take pictures of Hard Rock Café Makati's Menu.
If there is any consolation, yes, the dishes were expensive but at least it comes in big servings. They taste great too! Particularly the Macaroni and Cheese with Chicken Something. And the band was great as well.
Again, the food was good and the serving was big. Now, here are the prices.
Here's Hard Rock Café Makati's Menu with Prices as of April 2013.
There you go! Hard Rock Makati's Menu and Prices. Hope this helps in your event planning! 🙂
Hanggang sa muli, Paalam!
_________________________________
By: DENCIO
Originally Posted On: DENCIO.COM
Do You Like This Post?
Subscribe to the RSS Feed
Follow me on Twitter
Like us on Facebook
Email Me
Read More Posts HERE