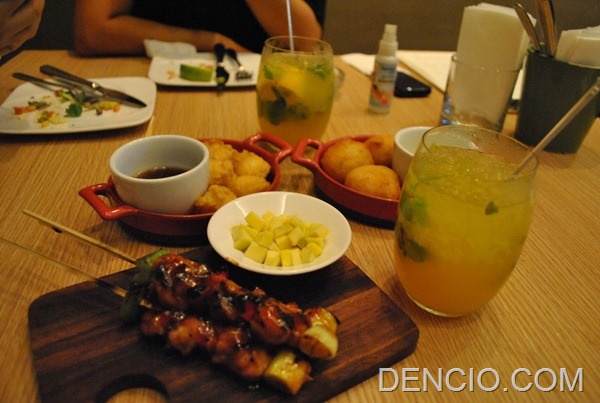 Sidebar Café El Pueblo
Location: El Pueblo Real Manila, Julia Vargas cor. ADB. Ave, Ortigas Center, Pasig
Contact Number: (02) 470 6559
Website: http://1771group.com/sidebar/
Facebook: https://www.facebook.com/sidebar.elpueblo
Twitter: https://twitter.com/SidebarElPueblo
Sidebar has been reinventing itself to keep up with the time. They have been an established bar in Ortigas for quite sometime but until now they are still a go to place for young professionals who want to unwind and enjoy a drink or 2 with their buddies. This year, Sidebar introduced us several new dishes that will make their menu more interesting and current. Here are some of them:
The New Sisig Experiece: Pork Sisig wrapped in soft tortilla with avocado, tomato salsa, some leaves and some dressing. And to give the experience a punch, they serve it with a rum or tequila something on the side! Now that's what you call a value meal! Who wants to upsize?
This combo is really interesting, lots of different flavors and textures to take in however, one thing is for sure, the sisig rules over all the other flavors on this ensemble.
The Pulled Pork Sliders: Yummy Pulled Pork BBQ in a sandwich! What's not to love right?
Chicken Skewers: Chicken BBQ served with "nilasing na mangga" on the side. The BBQ was typical but the mango was different, according to the waiter it is made by soaking the mango in beer and sugar.
Cheese and Chorizo Risotto Balls: WINNER!
Quail Eggs! This is your typical quek-quek only cleaner and more expensive. Still good though. The perfect way to get your foreigner friends to try them. If I am not mistaken, 1 order of 6pcs costs P120 so that's P20 each. I know, It costs P20 for 6 pcs in the streets.. hehe! It's a fancy fancy bar, and its clean! 🙂
Sidebartinis: Tastes like juice but will kick you from behind after a while.
So there you go, something new from your favorite Sidebar in Ortigas. Apologies if I was not able to get the prices because the place was a bit dark but most of them ranges from P100-200 pesos only so it is relatively cheap considering the ambiance and the quality of food.
Sidebar is a proud member of the 1771 Group of Restaurants. The group behind Sentro 1771 and Chateau 1771.
Hanggang sa muli, Paalam!
_________________________________
By: DENCIO
Originally Posted On: DENCIO.COM
Do You Like This Post?
Subscribe to the RSS Feed
Follow me on Twitter
Like us on Facebook
Email Me
Read More Posts HERE