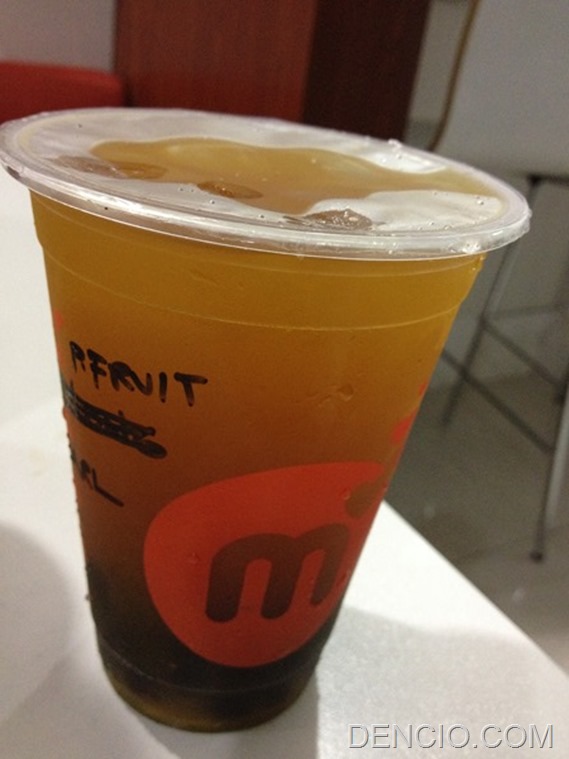 I am a coffee lover and I am not a big fan of milk teas – until now. I really don't like milk teas, the first few times I tried them I got a bit nauseous and I felt a little gag reflex. That is why I never tried milk teas again – until yesterday. I got myself a Quick Delivery of Several Milk Tea Flavors from Mirinae House which is formerly known as Milky Way Tea Café in Ortigas. I said to myself, why not give it a try one more time – and it paid off.
Passion Fruit Tea (Regular) P85.00. This one is a refreshing fruity tea (no milk). You can really taste the fresh passion fruit in every sip.
Mango Yakult (Regular) with Pearls P90.00. If you think this will taste weird because of the yakult, well you are wrong, the mango tastes very fresh and the yakult in the shake adds a bit of milky flavor with some texture.
Classic Milky Way (Regular) with Peals: P90.00. This one is the one I though I would not enjoy, but I did. No nausea whatsoever. According to my officemates, some milk teas really taste weird so once you found the one that you enjoy, stick with it.. just like finding the best coffee.
Dark Chocolate Milk Tea (Regular) with Pearls P100. What can go wrong with chocolate?!
Peach Yakult (Regular) with Pearls P90.00. Similar to the Mango yakult… only peachy.. :p
Kopi (Coffee+Sweet Milk) P75.00 and Roasted Oolong Tea P70.00. The kopi tastes like your Singaporean Coffee and Condensed Milk combo but this one has a not so strong coffee in it. The milk overpowers the coffee. The oolong tea taste like tea… I am not familiar with the leaves used on this one but it is a very popular tea from China.
There was another Milk Tea that I ordered (I think I forgot to take the picture) the Taro Milk Tea. It taste like "Malabnaw na Quickly" it was really good!! 🙂
Of course man cannot leave with tea alone. So I ordered some real food. I ordered a red sauce spaghetti and a fettuccini carbonara however the read sauce was not available so I got 2 carbonaras with 2 different pasta. Aside from the pasta, I also got myself a kaya toast to go with my kopi.
The Kaya buttered toast (P85.00) was really good! It was perfectly toasted and there was a lot of kaya spread in sandwiched in between the bread. It was not that warm when it was delivered, I think if it I heated it in the oven toaster for a minute it would be much better.
The carbonara (P75.00) was so-so. It was ok but it lacks flavor. If they opted to use bacon and added more cheese it would have been so much better. Same as the Kaya toast, the carbonara came in cold so it would be best to heat it in the microwave for a few seconds.
Overall, I love the Tea's it was a change of heart for me. But to be honest, I still prefer my coffee. 🙂
The food was delivered right on time, the rider was polite and the food was packaged neatly. If you want to try Milky Way Tea Mirinae House, you can have it delivered via Quick Delivery.
Hanggang sa muli, Paalam!
_________________________________
By: DENCIO
Originally Posted On: DENCIO.COM
Do You Like This Post?
Subscribe to the RSS Feed
Follow me on Twitter
Like us on Facebook
Email Me
Read More Posts HERE