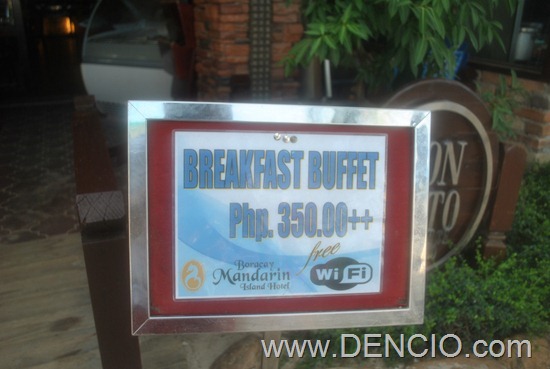 Don Vito Ristorante Italiano
Boracay Mandarin Island Hotel
Station 2, Boracay Island, Malay Aklan Philippines
Contact Numbers:
MANILA (+632) 567.1672 | (+632) 524.4759
BORACAY (+6336) 288.4999 | (+6336) 288 599
WEBSITE | FACEBOOK PAGE
If our previous stay at Boracay Mandarin Island Hotel was great, the breakfast was another story. We had our complimentary breakfast down at Don Vito Ristorante Italiano. It was ok, nothing spectacular. Although the breakfast buffet was complete with the basics, honestly for me, the breakfast really fell below my expectations. It was the kind that you get from a 3-star resort or hotel. I know that the people don't go to Boracay for the breakfast, people probably skip it especially if they were out partying all night – but hey, it is part of the vacation package you paid for and considering that Boracay Mandarin is marketing itself as one of the luxury hotels in the island, I think a better breakfast buffet spread is in order.
Like I said, it was small but still complete with the basics – Salads, Soup, Cereals, Breads, Eggs, Fruits, Juices, Coffee, Rice, Filipino Breakfast Favorites, and Spaghetti! Yep, Spaghetti for Breakfast! I am not complaining, Spaghetti is my Favorite food… For most of you, this may be considered weird.. or not? It is an Italian Restaurant, there should be an Italian dish on the menu! :p
Love the Spanish Sardines. The bacon was not crispy at all! Probably Canadian… Or not.
I think the P350++ Price is just in order for their breakfast buffet. Anything above that is unacceptable. I do hope that they really improve on their breakfast buffet. They are marketed as a luxury destination. People are expecting better. On second thought – technically – it was complimentary. I am in no position to complain… 😀
Hanggang Sa Muli! Paalam!
_________________________________
By: DENCIO

Originally Posted On: www.DENCIO.com
Do You Like This Post?
Subscribe to the RSS Feed
Follow me on Twitter
Like us on Facebook
Email Me