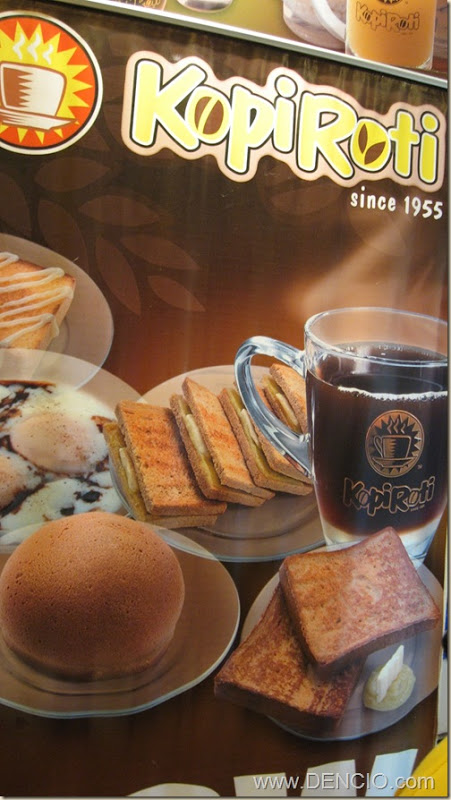 Craving for Some Peanut Butter Toast, We headed to KopiRoti in Greenbelt!
KopiRoti originated in Singapore, serving Kopi and Roti! Hehehe! Coffee and Toasts and Buns! The place is similar to Ya Kun Kaya Toast but unlike Ya Kun, KopiRoti also serves Kopi Buns and Choco Buns. They also have different flavored toasts.
The Coffee they serve is also the Traditional Singaporean Coffee which has been pulled and served with Condensed Milk.
Pulling: Prepared by quickly transferring tea from one mug to another to create froth and aroma.
We went to KopiRoti to have some peanut butter toast, but when we got to the store, they told us that they ran out of peanut butter! Hayy! So Sad! Good thing everything else was still available.
The place is located in Greenbelt, near the cinema. Their store was small, there only have 2 tables inside, but they have provided more tables outside for al-fresco dining. The crew were very friendly and polite. All smiles while serving the customers. A great place for breakfast! :p
This is their super good Kopi… Iced Kopi and Hot Kopi! :p Php 50.00.
"Kopi and Tea – our coffee beans are roasted with special recipe in traditional Hainanese style. We brew our coffee using the Singaporean tradition served with sweet milk. For our tea, we only use quality Ceylon tea leaves, which are then brewed the traditional way, as well."
Notice that the condensed milk is settled at the bottom of the cup when served. 🙂
Now, "Roti" French Toast Php 55.00 (GOOD!)
"French Toast – like your ordinary French Toast but served with Kaya spread."
Choco and Milk Toast Php 45.00 (GOOD!)
It is a thick slice of Toast Drizzled with Chocolate and Condensed Milk! GOOD!
Kopi Bun Php 40.00 Crispy on the Outside, Soft and Moist on the Inside! (GOOOD!)
"Kopi Bun – the house specialty. Soft bread with coffee flavored crust and sweet buttery filling inside."
Choco Bun Php 40.00 Crispy on the Outside, Soft and Moist on the Inside! (BERI GOOOD!)
The Kopi Bun is Mocha Flavored, This one is Choco Flavored! Don't ask me which one is better because I like them both! It will be a Tough Choice! :p
Home Made "Roti" Kaya Toast Php 40.00
4 Slices of Toast with butter and Special Kaya Spread.
"Kaya Toast – thinly sliced toasted bread served with Kaya spread and butter."
This should have been soft-boiled eggs Php30.00/pair but we prefer our Eggs Hard! :p
"Soft-boiled Egg – perfectly soft-boiled egg in special soya sauce and white pepper."
For Meal lovers out there! They serve Complete Meals for your Total Satisfaction! You just have to add an extra 5 pesos if you want your Kopi Iced!
They also have something for Pasalubong!
I really love all their food! Although I have yet to try The peanut butter toast. But judging from what I have tried so far… I bet it will be super good as Well. Great Taste and Great Value for Money! What more can you ask for! 🙂 I still have to come back for that peanut butter Toast… and Probably the blueberry toast as well!
Hanggang Sa Muli! Paalam! 🙂
_________________________________
By: DENCIO
Originally Posted On: www.DENCIO.com
Email Me | Post a Comment | Subscribe to My BLOG (RSS) | Follow me on Twitter