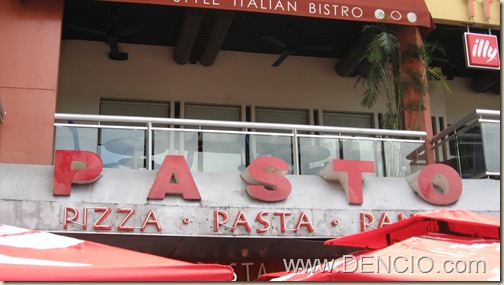 Lunch Time at Pasto Italian Cafe and Dessert Bar in The Fort Strip.
The place displays a casual-contemporary Italian-yish restaurant. Simple yet neat and functional. The place was not that big, they only have a few tables inside the restaurant, but they have provided shaded outdoor tables for an al-fresco dining experience. The staff were very polite and accommodating. The service was fast too! The price, reasonable for a restaurant of this kind. You need to prepare +/- P500 for a meal. It is a good place to hang out, chill, and talk.
Now the food.
The food was ok, what I like most was the pepperoni pizza and the mozzarella sticks. The pasta, not so much. The food was beautifully presented and the service was fast.
This place reminds me of Bravo. They have similar line-up of dishes. Like I said before in my post, I am not a big fan of "authentic" Italian food. For me the more it gets authentic or fancy, the more it becomes less flavorful and savory. I like my pizza and pasta saucy and flavorful.
But as I said, the place serve good Italian food. So if your palate craves for "authentic" Italian cuisine or at least close to "authentic" you will enjoy dining at Pasto. They offer a good line up of dishes at a reasonable prices.
The pizza was about 14 inches thin crust and the pasta is good enough for 2 people.
Mango Shake P115 (+10%SC)
Raspberry Shakes P95 (+10%SC)
Mozzarella Sticks P175+sc Crispy Mozzarella Sticks with a zesty pizzaoilo sauce
Calamares P195+sc Deep Fried Calamares Served with Tartar Sauce
Crostini Appetizer with Pomodoro dip (Free C/O AMEX Card)
Al Pasto Salad P215+sc Mesclun greens, fresh mushrooms, prosciutto and mangoes in a light raspberry vinaigrette
Formaggi Pizza P255+sc Four Cheese (Feta, Ricotta, Mozzarella, and Parmesan)
Salsiccia Pizza P225+sc Italian Sausage, onions, and bell peppers
Pepperoni Pizza P225+sc
Prosciutto Cotto Pizza P255+sc Smoked Ham, Asparagus, Caramelized Onions, and Mozzarella.
That time, they ran out of asparagus. They substituted spinach instead.
Pasta Arrabiata P195+sc Penne with smoked bacon in a mildly spiced tomato sauce
Pesto Pasta P225+sc Capellini with basil pesto, sun-dried tomatoes and pine nuts.
Vongole Pasta P235+sc Linguine with clams, fresh diced tomatoes and parsley.
Pasta Bolognese P225+sc Fettuccine in a classic Italian meat sauce.
Now for the desserts… here are what's available that afternoon.
I forgot what they are called, It got mixed up. I found nothing special about the desserts though. It was just an ordinary line-up of cakes for me. Also, the price is a bit steep and the serving is a bit small. Prices ranges from P155 to P175 +sc.
Another free item from AMEX 🙂
Pasto The Fort | (02) 884.1592
Hanggang Sa Muli! Paalam! 🙂
_________________________________
By: DENCIO
Originally Posted On: www.DENCIO.com
Email Me | Post a Comment | Subscribe to My BLOG (RSS) | Follow me on Twitter