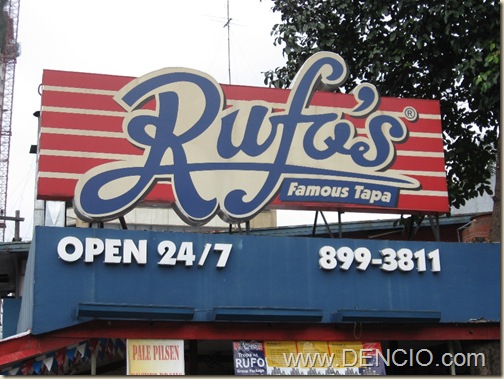 To conclude my 4-Part Tapsilog Series, I present you, Rufo's Famous Tapa.
But before anything else, I am just done with this week-long series but I am done looking for tapsilogs out there. Actually, this is just the start of my quest for the ultimate tapsilog! 🙂
Moving on, Rufo's Tapa is one of the fancier tapa versions out there. They are fancier because, compared to the other tapsilogans out there their tapa is more expensive, almost twice the price of other tapsilogs out there, also their locations are on the prime areas of the metro.
This Rufo's is located along Kalayaan Avenue in Makati. Dining Al-Fresco, this branch has has a clean and well maintained dining area. Although the setting is similar to the typical setting of the other tapsilogan. The service is relatively fast and the crew were friendly, attentive? Hmm.. Not so much. He got my order wrong the first time. But they corrected it right away.
The main difference of their tapa with the others is the fact that it is sliced as a tapa, thin and flat. Also, their tapa is saucy, it is actually topped with their special sauce. Now, let's take a look.
Tapsilog P89 Tapa-Sinangag-Itlog
Now, that is a saucy tapsilog. The tapa was flavorful, taste a bit like bistek tagalog. I realized that I am not a fan of a saucy tapsilog. Also, the tapa was not that tender. Probably I got to try the "Malitid" chewy part. Anyway, I still like my tapsilog fried and oily! :p The serving was generous and the sauce goes well with the fried rice. 🙂 But of course, since you paid a hefty P89 pesos, this is expected 🙂
Embosilog P75 Embutido-Sinangag-Itlog
The serving of this one is generous also, two rolls of Embotido per order. The embotido was good although it taste more like longganisa rather than a meaty embotido roll. But it was still very juicy and flavorful.
Sizzling Sisig P130
The sisig was also good, it was crispy and was not full of pork fat bits 🙂
Now, for some desserts Leche Flan P30 and Creamy Fruit Fiesta P26.
The leche flan taste like sago-gulaman :p probably because of too much vanilla or something but the Creamy Fruit Fiesta was good. Fruits and cream on top of Crushed graham at the bottom.
As I said, this is just the start of my quest for the ultimate tapsilog. I will post my new discoveries next time! 🙂
By the way, Rufo's Delivery number is 899-3811
Hanggang Sa Muli! Paalam! 🙂
_________________________________
By: DENCIO
Originally Posted On: www.DENCIO.com
Email Me | Post a Comment | Subscribe to My BLOG (RSS) | Follow me on Twitter