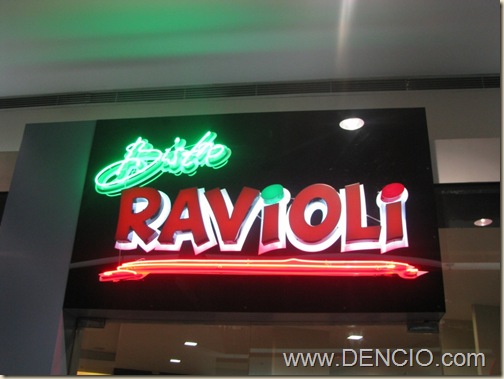 Bistro Ravioli MOA
2L South Wing, Mall of Asia, Pasay City
Tel: (02) 804-0577
Bistro Ravioli, A relatively new Pizza-Pasta Restaurant in Mall of Asia.
Opened only last December 2009, Bistro Ravioli serves great Ravioli and Brick-Oven Pizza to the mall goers of MOA.
Ravioli is a Fresh Pasta with a filling and sealed at the edges. Basically a pasta with filling. It is another great way to enjoy your pasta since Ravioli is not usually served in most restaurants specially in a fast food or even a casual dining setting.
The place was very clean and simple. There were no elaborate decorations. The tables and chairs were clean and white, the walls designs were very minimal, and the table setting was very basic. This allows you to focus mainly on the food and not on anything else.
The place was well attended. The service was fast and the waiters were very friendly and attentive.
We ate during the soft opening week so we got ourselves free Iced-tea 🙂
The food was reasonably priced. You can have a decent meal for under 250 pesos. The pastas are good for 2 – if eaten with a pizza. It is also big enough for a heavy eater like me. 
Quattro Formaggi Pizza 14" P325.00 (+5% SC)
Cheddar, Mozzarella, Parmesan, Feta Cheese. GOOD! GOOD! GOOD!
Italian Sausage Ravioli P190.00 (+5% SC)
Sausage Ragu P180.00 (+5% SC)
Molto Meatball Pasta P180.00 (+5% SC)
All their pasta were good! I especially love the ravioli of course. The Meatball was very flavorful as well. The pasta was cooked to perfection. It was al-dente, Especially the ravioli considering that it was freshly made.
Their menu was not that extensive. But most of what they offer were good.
Over-all, Bistro ravioli if a great alternative to your typical pizza-pasta fastfood and restaurants inside the mall of Asia.
Hanggang Sa Muli! Paalam! 🙂
_________________________________
By: DENCIO
Originally Posted On: www.DENCIO.com
Email Me | Post a Comment | Subscribe to My BLOG (RSS) | Follow me on Twitter