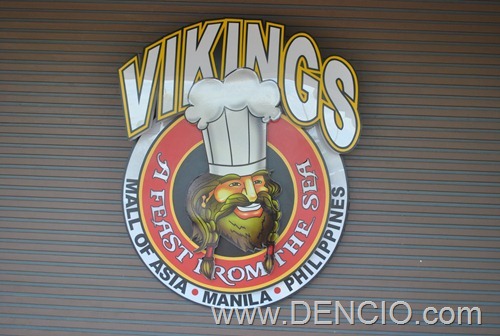 Vikings Luxury Buffet
Bldg B, By The Bay, Seaside Blvd. SM Mall of Asia Complex, Pasay City, Philippines
846-3888, 846-4888, 846-5888 and 0917-565-3888
LUNCH: 11:00am- 2:30pm DINNER: 5:30pm-10:00pm
Website: http://www.vikings.ph/ FB Page: Vikings
I am sure you have heard about Vikings Buffet in Mall of Asia. Well if not, Vikings is the newest and hottest buffet in the metro today. If you think that a buffet must be situated in a hotel to be delicious and luxurious, Well, think again! For Just a fraction of the price you would normally pay for a hotel buffet, you get all these delicious food and bottomless soft drinks, juices, Iced Tea, coffee and even Beer!
Vikings Buffet in MOA is probably the largest (or longest) non-hotel buffet in the country. You may compare it to other eat all you can or buffets out there such as Dads/Saisaki/Kamayan or Tong Yang, or Yakimix but really, this place belongs to the big league.
Conveniently located in the quiet San Mig by the Bay (Behind MOA, near Hooters), this establishment is hard to miss. Vikings can accommodate around 600 people. There are several buffet stations inside the building: Japanese, Chinese, Drinks, Desserts, Grill, Carving, Salads, Appetizers, and a lot of international dishes. There is also ample parking space (P30) around the building.
Since Vikings is becoming really popular, reservation is required few days before you dine. Although they accept walk-ins but you will be accommodated if ever there are still available tables or if someone cancels his/her reservation.
Before the Food, Here is Vikings Luxury Buffet (MOA) Rates, Prices, Discounts:
They do offer occasional promos with certain credit cards. Please call to check.
Here are some highlights of my Dining Experience at Vikings:
The Tenderloin in the Carving Station was AWESOME! What's more, I read on their FB page that starting September 1, 2011 they will be adding CERTIFIED PREMIUM ANGUS BEEF to their menu every weekends and holidays!!! I must try that!!
Their Overflowing Drinks was a treat. I even made my own Rootbeer float by adding a scoop of vanilla ice cream in to my Rootbeer! 🙂
The Salmon Lasagna was Superb. It was was my first time to try this dish, it was so tasty and delicious. I am just not sure if this is a regular offering.
Nachos Station!!! FTW!
This is not a luxury buffet for nothing, they have caviar!! for those who wanted to try caviar, go to Vikings!
Bottomless Tempura!
Pasta Bar!
Ok final tips before the food:
Reserve at least a week in advance
Be there early to enjoy the presentation of the food
There are lots of kids, be careful
Often times the pasta bar, grilling station, and carving station has a long queue of people. Please be patient.
Don't drink too much, focus on the food! 🙂
Now here are the Dishes at Vikings Luxury Buffet!
Fried Mantao with Condensed Milk.
Here is the Caviar… 🙂
Super Tender Lechon de Leche, Beef Tenderloin, and Lamb 🙂
They have wines. You need to pay P900++ per bottle.
Beautiful Buffet Table and Clean Wash Area.
Here is the amazing Salmon Lasagna!!! FTW! Must Try!
Yes folks, that is a whole-cooked octopus. Too bad no one ate it.
If you celebrate your birthday with Them, Vikings' crew will sing you a song and will give you a small birthday cake with candle. 🙂
Now the Sweets!
I love this buffet! For only P950, it is very very sulit! The food was great, bottomless drinks, great ambiance, friendly staff! I will definitely be back to experience their Angus Beef! 🙂
Hanggang Sa Muli! Paalam!
_________________________________
By: DENCIO

Originally Posted On: www.DENCIO.com
Do You Like This Post?
Subscribe to the RSS Feed
Follow me on Twitter
Like us on Facebook
Email Me