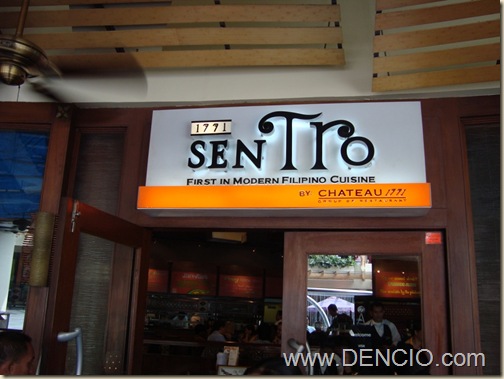 If you are looking for a new restaurant that serves great tasting Filipino Meals… Not to mention with a twist… you have to try Sentro 1771 in Greenbelt.
Sentro 1771 is one of the restaurants under the Chateau 1771 group of Restaurants. The group has 3 very interesting restaurants.
Chateau 1771
(French-Italian) which I was able to try a while back, Then there is the Sidebar Cafe (Asian-Italian), and of Course Sentro 1771 (Modern Filipino).
Sentro 1771 serves great tasting Modern Filipino foods. Have you ever tried Corned Beef Sinigang before? Not the canned one! :p What about friend Kesong Puti?! It is a must try!
Sentro 1771 is located at the second level of Greenbelt 3. The interiors of the place looks very native and yet still classy and sophisticated. Almost all elements of the restaurants are made from wood. Wooden Tables, Chairs, Counters, Walls, and Railings. It is a great place for balikbayans and for entertaining foreign guests who want to try Delicious Filipino Food.
The service was swift and the waiters were very warm and friendly. They attend to your requests with smile and enthusiasm – Very hospitable indeed. A great feature for a Pinoy Restaurant.
Like I said. This is a must try restaurant. All their food that was served that day did not disappoint! The price is very reasonable considering they serve the food in big portions. Eating as a group is encouraged.
Green and Ripe Mango Shake P120 (+12%vat and 10%SC)
Sago Gulaman P110 (+12%vat and 10%SC)
Fried Kesong Puti P250 (+12%vat and 10%SC)
One of my favorites here in Sentro 1771! I really don't eat kesong puti but this time I made an exemption. I was surprised how good this one was. It was a great way to start your meal! A Must Try! The serving is probably enough for 3-4 people (As appetizer! :p).
Tomato and Kesong Puti Salad P220 (+12%vat and 10%SC)
Tokwa at Belly P270 (+12%vat and 10%SC)
Crispy Drunken Shrimps P320 (+12%vat and 10%SC)
Roasted Chicken P480 (+12%vat and 10%SC)
Tilapia on Coconut Milk P330 (+12%vat and 10%SC)
Sentro's Bagoong Rice P280 (+12%vat and 10%SC)
Served with Chorizo, Tapa Bits, Scrambled Egg, and Shredded Mangoes. This one is a meal on its own!
I Forgot what this one was (Pasensya.. :p).
If I am not Mistaken, I believe it was the Catfish Adobo Flakes P330 (+12%vat and 10%SC)
Now another Favorite! A boneless Crispy Pata!!! 🙂
Boneless Crispy Trotter P480 (+12%vat and 10%SC)
And of Course, Served in a Hot Palayok! Their best seller, the Corned Beef Sinigang!
Sinigang na Corned Beef P420 (+12%vat and 10%SC)
The Corned Beef Chunks are really Big! And they will ask you how sour you want your sinigang to be. It is Perfect! :p
Overall this palce offers a great dining experience. And the corned beef sinigang would definitely lure you back! Again and Again!!!
Here is Sentro 1771's Menu.
Sentro 1771 is Located in GB3, Reservations is a must especially during Lunch and Dinner Times. For Inquiries you may call 7573940 or 09178660440. They also have a branch in Serendra at The Fort.
Hanggang Sa Muli! Paalam! 🙂
_________________________________
By: DENCIO
Originally Posted On: www.DENCIO.com
Email Me | Post a Comment | Subscribe to My BLOG (RSS) | Follow me on Twitter