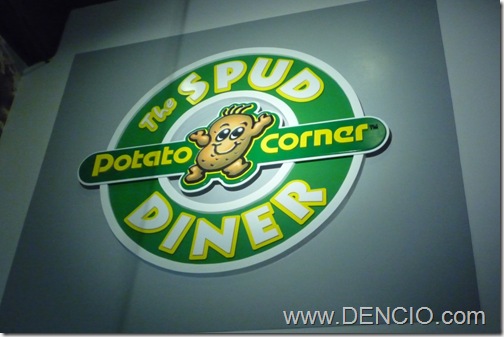 Potato Corner, The Spud Diner
Ground Floor, The Columns, Buendia Corner Ayala Avenue Makati City (Across RCBC)
(Located Between Starbucks Coffee and Mini Stop Convenience Store)
Tel: (02) 909-5313
Dine In and Take Out Only

Ready for Potato Overload?! Ready or Not, Here comes Potato Corner's The Spud Diner!
I love Potato Corner Fries! (Who doesn't?!) I grew up eating My favorite Fries Flavor – Sour Cream! Soo Good! So its no brainer that I got so excited when I got the news that they opened a new kind of branch in The Columns in Ayala Avenue, which is relatively near our office. They have a lot of branches everywhere but I have to try this one ASAP. Because, This is not one of their ordinary Branch, which is the Kiosk Type, This is their Very First Spud Diner. Yes, It is a Diner! Where you Can Dine In!? :p
The Very First Spud Diner in the Country! A Fresh and Exciting Potato Experience!
Aside from their All-Time Favorite Fries, The Spud Diner Serves a whole lot more Potato Dishes. From Baked Potato, To Potato Lasagna, To Shepherds Pie! I will reveal them later but first I show you around.
They have a sort of a Take-Out Counter Window in front of their store but by the looks of their Layout, It seems that it will be a bit inconvenient for both the client and the crew inside to use it. Still, You have to come inside to buy your fries to go.
The Spud Diner Gang was very friendly and accommodating. they were kind enough to introduce me to their new Products.
The place is small, the have around 4 tables inside which can accommodate more or less 15 people. The place was very neat and clean. The interior was very pleasant.  Except that when they cook or fry the fries, most of the smoke ends up staying inside the store. They should Address this problem ASAP since dining outside (Yes, You can also dine outside the store using a few more tables and chairs) also gives a smoky experience due to the heavy traffic around the area.
Potato Corner's Mascot, Spudster has a new set of "unnamed friends". One looking like Spongebob, but instead of Squarepants, this one has Triangle Pants!
While Waiting for your orders, The store offers a very entertaining attraction. I do not know what it is actually called but this is the very familiar game – Yung Idadaan mo yung bakal na may handle sa curve curve na bakal na mukhang potato corner tapos pag dumikit iilaw sya at tutunog ang bell – That game! 
Now, here comes the Spuds!
Of course, a Potato Corner Store Won't be Complete without their Fries Kiosk.
Potato Chips P75.00
GIGA Flavored Fries P149.00 – Good For the Entire Barkada. Too bad that day my favorite sour cream flavor was out 🙁 We ended up with Cheese and Barbeque Instead, which is good as well – but not my favorite! :p
They were still in a sort of soft opening that time so you get a free glass of Iced Tea for every purchase of any Potato Dish. 🙂 – Until Feb 28 2010 Only 🙂
Potato and Sausage Surprise P165.00
Now, this is one good looking potato dish.  Hungarian Sausage on top of layered thinly sliced potato with cheese! As of the moment this is the most expensive item on their Menu. But believe me! It is worth the price! It was very flavorful, and the Sausage really goes well with the Potato Slices!
Baked Potato Lasagna P90.00

Need I say More?! Your classic lasagna without the Pasta! Instead, they layered the thinly sliced potatoes with the meat sauce and topped it with béchamel sauce and cheese!! And at 90 pesos! This is a great dish! 🙂
Bacon and Cheese Baked Potato P55.00
Cheesy Baked Potato P55.00
Crazy Spudster (Criss-Cut) P85.00
This place did not disappoint. As Expected, the dishes were very filling (Carbo Overload). There are still A LOT more in the menu that I have to try. I must come back for More! Good thing that this is just near our office! 🙂
Potato Corner, The Spud Diner's Menu


I am looking forward to going back again and again on this place. I hope that they start opening more stores around the metro and in the malls.
Thank you to Mr. Gilbert Ebba for lending me his camera for this very spontaneous dining experience! 🙂
TIP: A great way to end your meal is by ordering the 15 pesos Hershey's Ice Cream at Mini Stop. Thanks to Karen for the Free Ice Cream! 🙂
Hanggang Sa Muli! Paalam! 🙂
_________________________________
By: DENCIO
Originally Posted On: www.DENCIO.com
Email Me | Post a Comment | Subscribe to My BLOG (RSS) | Follow me on Twitter