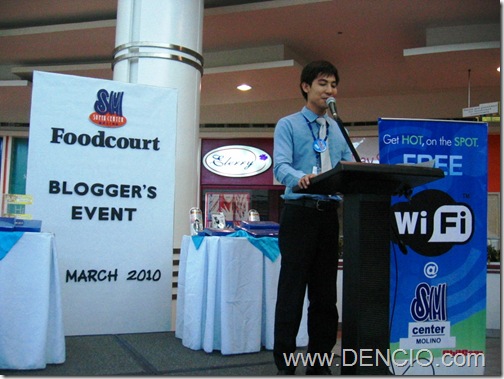 SM Molino Foodcourt
SM Supercenter Molino
Molino Road, Bacoor Cavite 
I was informed that there was going to be a Bloggers event at SM Molino's Foodcourt today at around 12NN-1PM. It will be an even to showcase and Introduce to the Blogging Community the Food Choices (Sounds So Ayala Mall) that SM foodcourt has to offer and of course to Highlight their relatively new offering for the Mall Goers of SM Molino… The FREE WIFI! (Which Most SM Malls have already) 🙂
This event was already held few times before at Different SM Malls… You may Find the Details Here at Azrael's Blog
By the way, before anything Else, Can I just Mention that their WiFi Speed is a Whopping 5MBPS! That is Symmetrical 5MBPS! That is Faster than most Airborne Access and WIZ! Not to mention It is FREE! No Need for receipt Validation! This will be my new Favorite Place in the Neighborhood!
Anyway, The main purpose of this event is to showcase the different food establishment they have on their foodcourt, in this case, SM Molino.
SM Molino's foodcourt is relatively small compared to the other SM Malls thus having just several food stalls. So Let's Begin…
Chansel Pizza House All Meat Pizza P122.00

Most of the Time this Kind of Pizza Can already Satisfy my Pizza Craving. Their pizza is flavorful, a good example that you don't have to be fancy to be delicious. You can enjoy delicious pizza without having to rob a bank! No Fancy, freshly hand-made dough, no fancy toppings, just plain and Simple Pizza – yet Delicious!
Moving Forward.. A very Familiar and A Mainstay SM Foodcourt Stall, The Sizzling Plate. 
I remember eating here way, way back in High school… You may remember them because of their Very Enticing Plastic Display at their stalls :p. Until now,  The Taste has been very consistent, delicious and satisfying, So as the Price… Very Affordable! 🙂
Chuckwagon Steak P67.00
Basically a burger steak served in a sizzling Plate… Perfect for burger lovers like me! If there is one thing I do not like when eating sizzling plate is the fact that it is super hot! When you are super Hungry, It becomes really frustrating! 🙂
Next… Inihaw Express…
Everything Inihaw! Perfect with Beer! And yes, Beer is served at SM Foodcourts (Except to Minors! :p)
Next Batch is the Food Stalls or Food Carts in SM Molino Foodcourt…
Turk's Shawarma, Takuyaki, Dunkin Donuts, Chef Chow's Shabu-Shabu Express and Miguelitos Ice Cream!
If you love shawarma, you won't miss it because there is one in your favorite SM foodcourt! 
Take some Vegetables and Some Squid, make it into balls, then you'll get Takuyaki! A Popular Snack in Japan, not conveniently located at your favorite SM foodcourts!
Dunkin' Donuts – Still The Pasalubong ng Bayan! Donut stores may come and Go but Dunkin Donuts holds a place in your hearts – (So cheesy!)
Yes, You can have shabu-shabu in SM foodcourt! I don't usually eat shabu-shabu, but surprisingly, It taste good! 🙂 It actually tastes like MaMi :p
Dessert!? Try Some Miguelito's Soft Ice Cream.. Comes with your choice of Toppings! Perfect for the Summer Heat!
Overall, When you need to eat and you can't think of a specific place or a cuisine, SM foodcourt will always be a good choice! Here at SM Foodcourts, they can also say -  "We've Got it All" 
Hanggang Sa Muli! Paalam! 🙂
_________________________________
By: DENCIO
Originally Posted On: www.DENCIO.com
Email Me | Post a Comment | Subscribe to My BLOG (RSS) | Follow me on Twitter