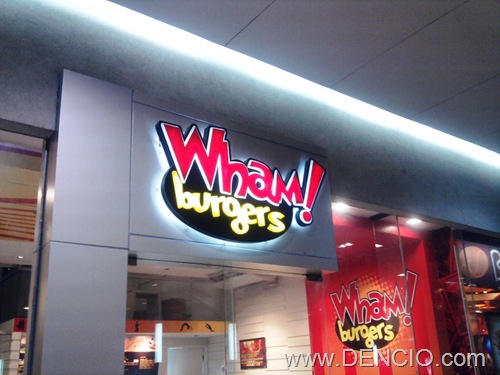 Wham Burgers MOA
Ground Level, North Parking Building, SM Mall of Asia, Pasay City
Tel: (02) 556.9394 | FACEBOOK PAGE
First of all, My apologies for the quality of the pictures. The pictures were taken using Samsung Spica i5700. I guess this Android Phone has no auto focus, or I don't know how to use it! :p
Moving on. After watching a Movie at MOA, we decided to have some snacks. After a few minutes of walking along the North Restaurant Wing, We ended up eating in Wham Burgers.
The place was neat and clean. They are probably very meticulous in cleaning the dining area. And they should be, since the place was painted white all over. The counter is a bit messy for me though. lots of stuff on top of the counter making it look crowded. Anyway, their dining area has a cute staircase leading to the small loft type dining place. Which is a neat way to maximize your space.
The crew were friendly and attentive, they offered recommendations which I gladly accepted. The menu was short – stick with the basics, burger, fries, and drinks with very few choices on the side.
Now the Food..
Crisscut/Crosstrax Fries P60.00
Crispy, Crunchy Fries. That's it! :p
Wham Spaghetti P72.00
(I will describe the one I got that day at that branch) 2 Things about this spaghetti. One. The pasta was soggy and watery at the bottom! Two. The sauce was horrible. I mean really. I am a big spaghetti fan. I am biased when it comes to spaghetti. I find most spaghetti good even the ones that is being sold in the market or Jolly Jeeps here in Makati. But this one was way way below what I was expecting. It was Bland. I sure hope that this was an isolated case.
Wham Burger P98.00
The burger patty was ok.. ok meaning ok nothing to cheer about. It was freshly cooked but you'll know that it was frozen for a while. It was not that juicy. They say that it was a 1/3 pound patty but it does not look like it. Eat this with cheese for a better experience.
Bronco Burger P150.00
The patty is similar with the Wham Burger but it has added toppings like Bacons, Onions, Cheese,a drizzled with their special (I am not sure if BBQ) sauce. This is way better than the Wham Burger. The added toppings really made this one a very good and filling burger! The added sauce made the bland burger juicier and more flavorful. This burger is big that I could not even bite into it without making a mess. The crew said that this is one of their best seller. Now I know why.
BTW: I was not able to finish my bronco burger so I took home the other half. I placed it in the fridge overnight. The next day I took it out for some brunch and did not bother to pop it inside the oven or microwave. Surprisingly it was still good! :p
Similar to Crave Burger their store also sell FIC ice cream products.
Wham Burgers Menu
Again their burgers are ok but so far, they are currently at the latter part of my list of the best burgers I have tried.
Hanggang Sa Muli! Paalam! 🙂
_________________________________
By: DENCIO

Originally Posted On: www.DENCIO.com
Do You Like This Post?
Subscribe to the RSS Feed
Follow me on Twitter
Like me on Facebook
Email Me