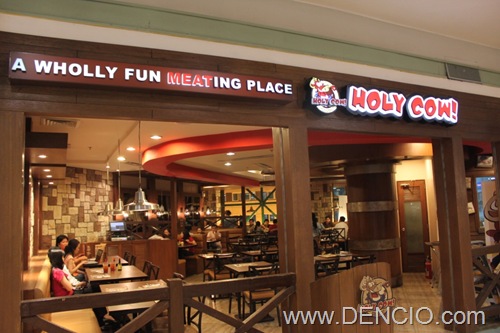 Holy Cow! Steak Ranch and American Grill
Level 3, West Lane, Robinsons Galleria
Tel: (02) 706-5768
Contrary to the Indian culture that cows are sacred, this restaurant lures you to consume them, and they mean it up to the last bone!
Nestled in Level 3 of Robinsons Galleria (among other branches), Holy Cow gives an aerial perspective of the EDSA Flyover, a bit of Corinthian Gardens/Meralco building, and the bustling traffic along Ortigas Avenue. Servers are donned in cowboy apparel to balance the ranch feel of its interior – Texan lamps, hanging cart wheels, cobblestones, wooden tables, rustic chairs, and a display of cowboy scenes and pictures. For a complete package though, you would need a lasso, saddle and a horse, and a thunderous scream of the familiar expression "Holy Cow!" from which the restaurant was actually coined after.
Every patron is presented with several choices in the menu – Soup, Salad, Pasta, Seafood, Steak, Ribs, Dessert, Shakes, and coffee to top it off. The menu displays an array of pictures for an easy pick.
For starters we had the Cowboy Combo Platter P295.00 (No Service Charge, VAT Inclusive), a marvel of squid, onion rings, fries, chicken strips and dip. It was a crunchy choice, an ideal treat for a party of five. Unfortunately coming late for the blogging event that night proved to be prejudicial as we were unable to see, take a shot, and taste what co-bloggers ordered. The selection was ok, probably similar to what other restaurants offer. Among the four choices, I liked the chicken tenders the most.
The Waddie Wagon Pasta P160.00 was a mixture of cheese and tomatoes, nothing fabulous except for the colorful pasta and uber cheesy-ness.
For our main course we ventured on Ranch Steak and Prawn P445.00 and
Ranch Steak and Fish P420.00, both with 2 sidings of our choice – buttered vegetables and mashed potato/potato croquet. Had they been served warmer, it could have tasted better. The fish was ok, the usual battered dory, it was not crispy. The Tiger prawns were ok, it was not that big but one of the bigger ones. Not much going on on the flavor department though. Now, the meat, the Ranch Steak. Honestly, It was tough, and it was not perfectly cooked, some parts were well done, some parts still pink. And Like I said, it would have been better if the plates were really sizzling hot! At least the gravy was good (and bottomless), I was able to try both variants, the Peppercorn and the Red Wine Reduction.
As some of the Steaks may come tough and not perfectly cooked, The soft and flavourful Chief Pot Roast Beef P495.00 rescued our expectations of the restaurant, and a good (and safe) recommendation to a newbie. This thinly sliced roasted beef was very tender and flavorful, the beef fats almost melts in your mouth. A very good choice! This was our second choice actually since the rib-eye was already sold-out. I wonder if we will ever regret not having a chance to try that one.
I am sure that Holy Cow's Steaks won't pass the standards of a Steak Connoisseur but for most people (like me), It can pass the standard – barely. It is considered a mid-priced steak but if I had paid Php950 and It came out tough and not perfectly cooked, I would probably return it and order something else.
It was nearing closing time and most of our picks were no longer available, including dessert. Hence we settled on Midnight Black Forest Cake (P95.00) – chocolate cake with chunks of cherry and syrup. Good thing the Wranglers Shake (P95.00) and Cowpokes Choco Milk Shake (P85.00) could pass off as desserts nonetheless.
Looks can be deceiving… Red Ribbon's Black Forest is Way better…
I guess the trick of the trade is really choosing the right order, if and when available. I am not sure if this happens often (The lack of choices) but if it does, especially if there are events, they may have to address this issue ASAP.
A lot has been said but the management informed us that they will be offering new set of dishes and will do a menu clean-up soon. I hope it will be something to look forward too.
Here is the Menu of Holy Cow!
Thanks to my blogging partner/Co-writer for this event, Atty. Kirby Javier. Who's face appears below… :p
Hanggang Sa Muli! Paalam! 🙂
_________________________________
By: DENCIO

Originally Posted On: www.DENCIO.com
Email Me | Post a Comment | Subscribe to My BLOG (RSS) | Follow me on Twitter