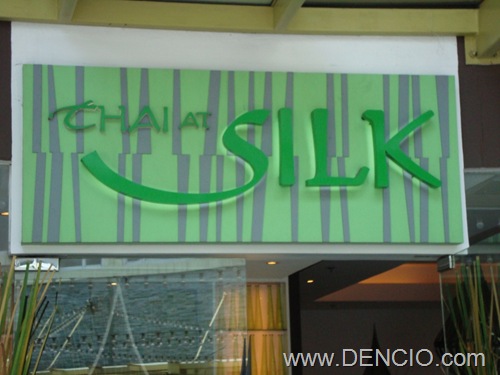 Thai at Silk, Serendra
G/F Serendra Piazza, 26th St., Fort Bonifacio
Taguig City, Philippines (Near Conti's)
(02) 856-0386 to 87
I will be leaving for Bangkok in a few hours. But before I do, I'd like to share a local Thai fine dining restaurant here in the Metro, Thai at Silk.
Located in Serendra in Fort Bonifacio, Thai at Silk positioned itself as a Fine Dining Thai Restaurant. Being named as one of Philippine Tatler's Best restaurant in 2008 really says a a lot about the place being up-scale.
The motif of the restaurant was green and white. The interiors has an Asian/Thai touch to it, but not too elaborate. The tables were clean and simple and the staff were very friendly. Natural light was used throughout the restaurant, the glass panels were not tinted allowing natural light to come in, but at the same time, allowing passers by to watch you dining. It was lunch time so the place was packed in no-time (Making a Reservation is encouraged).
The Presentation of the Food was great. The taste was acceptable, but it was not the best Thai food I have tried. What I like Most was the Pad Thai, although looking at the Pad Thai Wrapped in an Egg Wrapper was weird… But it was good! 🙂
Morning Glory and Oyster Salad P240.00 (+10% SC)
Pad Thai Noodles P400.00 (+10% SC)
Crispy Catfish Salad P345.00 (+10% SC)
Pomelo and Shrimp Salad P380.00 (+10% SC)
Shrimp Pastry (Dumpling) P265.00 (+10% SC)
Tom Yum Kung (Prawn Soup) P310.00 (+10% SC)
Stir Fried Bokchoy and Mushroom P265.00 (+10% SC)
Green Chicken Curry P345.00 (+10% SC)
Fried Fish Tamarind P425.00 (+10% SC)
Kaho Khluk Kapi (Bagoong Fried Rice) P380.00 (+10% SC)
Marinated Baby Back Ribs P245.00 (+10% SC)
What I love most was the Pad Thai and The Tom Soup. It tastes great especially the tom yum, the sourness was perfect! 🙂
Being labeled as an Up-scale and located in Serendra, I find their prices quite reasonable. The dishes are good for sharing. And if ever you ordered a bit more what you can take that day, you can always take home the left-over's. They pack your take home meal in a nice bag.
They try to make the feel as authentic as possible. They even label the names of the food on the menu is in Thai.
Here is the Menu of Thai at Silk Serendra
Hanggang Sa Muli! Paalam! 🙂
_________________________________
By: DENCIO

Originally Posted On: www.DENCIO.com
Post a Comment | Subscribe to my FEED | Follow me on Twitter | Follow me on FB | Email Me