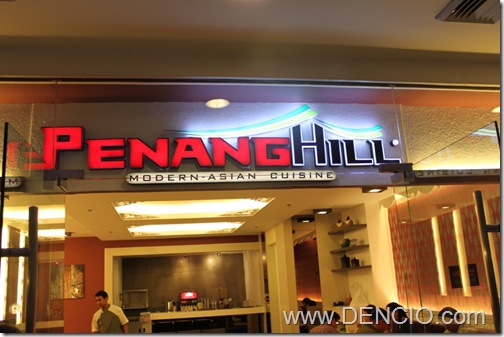 Penang Hill (Shangri-La Plaza)
The Ledge, Level 6, Shangri-La Plaza Mall, Mandaluyong City
Tel: (02) 910-2530
Penang Hill (Greenhills)
Unit 3 L/G., Promenade Mall, Greenhills Shopping Center, San Juan
Tel: (02) 725-3727
If you are looking for an exciting Asian restaurant and you cannot decide on whether you want to have Thai, Vietnamese, Singaporean, Malaysian, or even Pinoy Food, Then you better try Penang Hill – Modern Asian Cuisine.
Penang Hill is conveniently located in two locations, Greenhills, and in this case, Shangri-La Plaza Mall. The design of the place is very minimalistic. With just a few Asian touches here and there. The dining area has accents on the wall and a few decorations, It was very clean, relaxing, and tastefully done. Unlike other Asian restaurants that exaggerate on the Motif.
Under a new roster of management, Penang Hill prides itself in Vietnamese, Malaysian, Singaporean and Thai cuisines that do come in generous numbers.  Servings are appreciably eye opening and mouth watering, with obvious air of effort in preparation and presentation.  Scattered through a picturesque list of food choices, those who suffer from the "lazy eye" (figuratively speaking) will simply find pointing the right order stress-free by merely looking on the seven page menu.  Big groups can be accommodated in and out of the restaurant without compromise on ambiance, seating comfort, and commendable service.  The viands are all flavourful and drinks come in roomy glasses, all of which are recommended to be enjoyed in no hurry. Reasonable pricing and big plate servings will no doubt convert a first timer into a regular in a zippy. 
Our adventure kicked off with the drinks – By the looks of it, we were off to a good Start! 🙂
Four Seasons Shake P75.00 | Pandan Juice P70.00
Yes, they Taste as good as they Looks!
To satisfy our appetite for coolers, the Four Seasons Shake  was a majority pick, and a boastful bestseller of Penang Hill among all other drinks.  It was an eye candy- a combination of colors red and yellow, that the kid inside our varied personalities found it irresistible to mix.The Pandan Juice will remind you our very own sago/gulaman drink 🙂
Tanglad Juice (Lemongrass Juice) P70.00
It was too sweet for me, and it was not cold when it was served 🙂
Bottom line, They were all thirst quenching, so goes the infamous line, and we had to order another round just for fun.
Then, there were the appetizers. Which surely pumped up our appetite! 
Satay Kajang P165.00 – (No SC, Vat Inclusive)
Six sticks of chicken satay served with a very complementary peanut sauce. A light and yet very flavorful appetizer. The satay itself was a treat even without the sauce, but when dipped, it becomes more delectable.
Vietnamese Spring Rolls P155.00
The combination of Noodles, Meat, Shrimp, Veggies, wrapped in a fresh – I forgot what kind of wrapper – dipped in a very delectable sauce was impressive. The roll was very light, it has a subtle flavor but when dipped in their flavorful sauce, the combination was truly perfect. Although, I still prefer the fried version of the Vietnamese Spring Rolls 🙂
The appetizers were all good, so good that there was no "Pinoy Piece" Left!
Then We moved on to the Salads..
Shrimp Pomelo Salad P185.00
Pomelo, Lettuce, Cucumber, Shrimps tossed in a Coconut Milk Dressing.
Asian Chicken Salad P185.00
Lettuce, Chicken, and Crispy Wanton or Molo Wrappers tossed in an Asian Inspired dressing.
Honestly I am not a big fan of salads, I tried them both though. I like the Asian Chicken salad better compared to the first one. Maybe because, this was my first time eating a salad with a coconut dressing.. 🙂 But judging from my other foodie friends, looks like they liked both of it:)
Amidst our conversations came the climax of this story: the main course.  We cannot help but stare at all the plates with awe and amazement as they were handed on the table one at a time, looking as if we were Alcatraz prisoners waiting for rations. The Beef Rendang P260.00 was soft and succulent, with the famed Thai flavor sauce scattered on all its wonders which made it perfect for pouring onto the rice.  Soy Sauce, Chili, and Ginger came alongside the Hainanese Chicken P260.00, a monster serving for a hungry monster who can't plainly make up his mind on where to dip a piece.  For us, the three were meant to be experimented upon, but do take extra caution on the spicy one (red color).  Grilled Thai pork belly P220.00 a very familiar dish, almost similar to inihaw na liempo. And true enough, it was similar, so as the flavor. No interesting Asian touch as there…
For some fresh catch from Poseidon's lair, we ventured on fish and shrimp .  The Sambal Prawns P380.00 was a top selection and a best seller.  It was liberally served on a slightly spicy sauce (Which you have the option to spice up some more), and already half opened that everyone took pleasure in munching without need of a tedious peel off.  Just one piece for each? I beg to differ.   On the other hand, not much knockout on the Fried Catfish P185.00, save on the Tamarind Sauce which enhanced a bit of its tang.
An Asian meal would not be complete without rice, as such we gave it a go for Bagoong Fried Rice P185.00 and Nonya Rice P185.00. Of course the bagoong rice is a very familiar dish served in most Asian restaurants especially Thai restos. Consisting of Mangoes, Small chunks of Beef, Rice, and of course bagoong, This serving can serve 2-3 hungry diner. Same goes with this one, The Nonya. It was sticky and a cross breed to the Chinese delicacy yang chao fried rice. It has some veggies, shrimp, chorizo (YUM), and some secret sauces and spices, This one was an instant Hit! – You had me at Chorizo! :p
Save room for dessert, Something that we were not able to do (Too Bad!). But hey, there is always a next time!
Overall, Penang Hill offer Big Servings, Delicious Food and They come in extremely affordable prices that even Kirby said that – "you can even order the entire list".  Truly, a perfect alternative to the more expensive Thai and Asian Restaurants in the Metro -  without sacrificing the food quality and service of course!
It was a night of meeting new friends and sharing stories, business and personal, happy or otherwise. Penang Hill proved to be a great venue for the event.  The best part is the travel through Asian cuisines.  How time flies when you're hungry… oh and yes, when you're having fun.
Hats off to Mr. Gerald Grana and the rest of the gang from Stratigem Integrated Marketing Communications and Top Ideas Food Corporation,  for Introducing this place to us.
By the way, I would like to thank my blogging partner for this gig, Attorney Kirby Javier for His valuable Inputs. 🙂 It looks like your on your way to becoming an excellent Foodie! :p But next time, please try the catfish! :p  Until next time! 🙂
Penang Hill Restaurant Menu:
Hanggang Sa Muli! Paalam! 🙂
_________________________________
By: DENCIO

Originally Posted On: www.DENCIO.com
Email Me | Post a Comment | Subscribe to My BLOG (RSS) | Follow me on Twitter