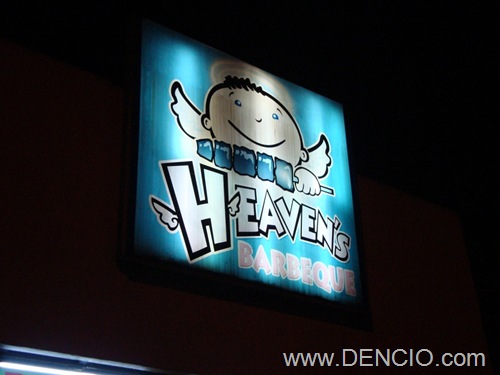 Heaven's Barbeque, Makati
Malugay St. Bel-Air Makati City (Near The Zone)
Tel: (02) 894.3899
I know, I know, there is already Ineng's, Frank's, Reyes', Amber's, and Many Many More BBQ in the city.. so what do I like about Heaven's? First of all, it is conveniently located beside The Zone in Makati so after a badminton game, time for some BBQ! :p Second of all, because of their Super Yummy Jumbowl Q-Bowl!
Basically a Jumbowl Q-Bowl P73.00 is a bigger version of the Q-Bowl.
It consists of Fried Rice (Which I believe was cooked in BBQ Drippings) with BBQ bits topped with freshly cooked juicy Heaven's Barbeque served with their special peanut BBQ sauce on the side! YUM!
Their BBQ was very Juicy, thanks to the thin pork fat layered in between the chunks of meat. It really keeps the meat juicy and very flavorful. And the peanut sauce… always perfect with BBQ!
I am salivating writing this post!
BTW: Although it is already called Jumbowl… it is still too small for me.. but that's just me :p
Heaven's Barbeque Menu (Yes, They Deliver)
Hanggang Sa Muli! Paalam! 🙂
_________________________________
By: DENCIO

Originally Posted On: www.DENCIO.com
Do You Like This Post?
Subscribe to the RSS Feed
Follow me on Twitter
Like me on Facebook
Email Me