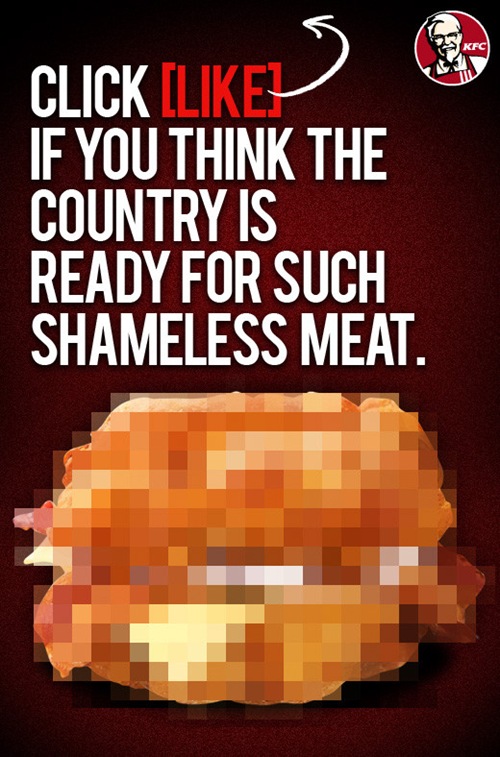 Have you seen this teaser?
KFC is cooking up something for us! Something Top Secret, even KFC employee friends did not let us in on the secret! Well the wait is over, the secret is out! There's a new chicken Sandwich in town! But Wait! This is NO ORDINARY Chicken sandwich!!! This is the new KFC Double Down Sandwich!
Here it is! In all its chicken Glory!
The KFC Double Down Sandwich – Cheese, Bacon, Mayonnaise, Sandwiched in 2 thick KFC Chicken Fillet! There's no bread on this one – The chicken itself is the bread!
The taste! It was really good! Although a bit oily, but who cares! :p I hope they create a spicy variant of this one. For me, although it is intended as a sandwich, I prefer to eat this with rice! This is a perfect ulam. Just pour some gravy – your done! 🙂
KFC Double Down Sandwich Price (Dine In-Take Out)
Ala Carte – P100
Meal – P115 (Sandwich + Drink)
Combo – P135 (Sandwich + Drink + Fixin)
I am not sure if this is a limited offer or will be a mainstay on their menu. So Hurry Up and Try this new Product on a branch nearest you… or call 887-8888 for Delivery!
Will eat this again This weekend! 🙂
Hanggang Sa Muli! Paalam! 🙂
_________________________________
By: DENCIO

Originally Posted On: www.DENCIO.com
Do You Like This Post?
Subscribe to the RSS Feed
Follow me on Twitter
Like me on Facebook
Email Me