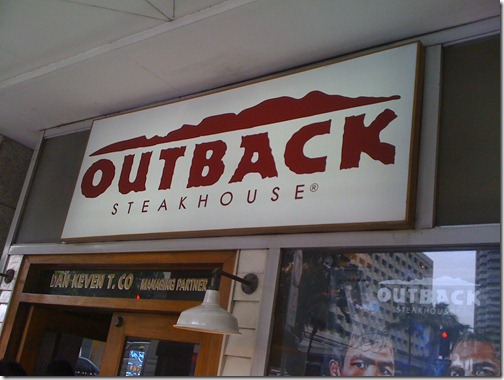 OUTBACK STEAKHOUSE Makati
Ground Level, Glorietta 4 Ayala Center, Makati City
Tel: (02) 729.8458
First of all, Outback Makati has the friendliest staff ever! Our experience went from good to great because of the exceptional service.
Their FREE starter, Warm Honey Wheat Bread was to die for! I was able to eat (approx.) 3 whole loaves before my entrée came! It was so moist, warm, and a bit sweet! I am not sure if there is a limit to the number of serving but the waitress just keeps on refilling our bread.. Thank You!
BTW: If you plan to buy this, it is priced at P65/loaf
You may think that having lunch at outback mean robbing a bank first. Think again!
Yes,it is true that most of their entrées are priced above Php 500.00, BUT during lunch time, they have some lunch time treats! Price starts at P199.00 +sc. Not bad! And just add Php 75.00 and you get a glass of softdrink + the soup of the day! A complete outback lunch just around Php300.00!
Soup of the day: Creamy Pumpkin Soup
Fish Pesto Risotto P199.00+sc
Breaded and Fried Fish Fillet served with Risotto
Ribs Barbie Php 279.00+sc
Super Juicy, Moist, Flavorful, Fall-of the Ribs! YUM!
Is that tender or what?!
The other Lunch Sets from Outback are: Pork Medallion Chili, Meatloaf, and Garlic Chicken. All priced at Php 199.00!
Thank you Outback for Offering these wonderful lunch sets! Looking forward to my next visit!
Hanggang Sa Muli! Paalam! 🙂
_________________________________
By: DENCIO

Originally Posted On: www.DENCIO.com
Do You Like This Post?
Subscribe to the RSS Feed
Follow me on Twitter
Like us on Facebook
Email Me