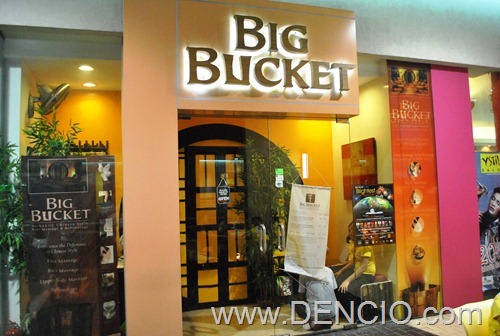 Big Bucket Authentic Chinese Style Foot Massage and Reflexology
Level 2, South Parking Mall of Asia (Near SM MOA Department Store)
Tel: 659.8050 or 0195.2034647
I am a sucker for Massage and Spa. Particularly foot spa. I am always on the look out for the best, cheap reasonably priced foot spa/massage around. I have tried a lot of foot-spahan around looking for the perfect balance of great service and reasonable price. This time I think I found what I have been looking for.
Big Bucket is Conveniently located in SM MOA. A perfect place to unwind after a long day of walking around this big mall. A place to relax and pamper your aching feet! This place is not your girly-type foot spa place, no pedicure, no foot scrubs, no paraffin treatments and no French tips! This is a No-Nonsense, Hard-Core Foot Massage Center!
Before you start your treatment, you will be greeted and asked by their friendly receptionist to choose your foot-soak treatment. For an additional P50.00 you can choose between the Anti-Stress Peppermint or Rose foot soak or the Kidney Cleansing Foot Soak. There is also a remedy for those aching calluses.
The ambiance of the place was very relaxing. Once you're inside, you will be guided to your massage chair, which was very relaxing and spacious. The room was very dark and quiet. You'll only hear Zen and Kung-Fu Sounding Music to sooth your senses.
The place is called Big Bucket because they use this traditional wooden bucket for the foot soak.
The session will start by soaking your feet in warm water in this traditional wooded bucket. Your chosen foot soak solution will be added. The foot soak treatment has 2 parts, the first part will turn the water into a jelly-like consistency. Then after a few minutes, they will add the second part which will turn the soak to watery again. I really cannot see the foot soak because the room was too dark but I can feel it on my feet. The foot soak smells great, especially the peppermint. But the the kidney cleansing foot soak smells like wet soil! Amoy Lupa! Hahaha! While your feet is being soaked, the therapist will give you a back, head, and arms massage (This is for the 80 min Foot Massage and Reflexology Service).
After the body massage, time for your feet! The foot massage was AMAZING!! Really! It was very relaxing, you won't even realize that your dozed off! It was like anesthesia! Hahaha! That's all I can say. You have to try it for yourselves.
After the massage, the therapist will ask you if you want to have a hot-ginger tea. I was deceived by the word "hot", I thought it was boiling hot, although it was really warm, but it was actually hot as in ginger hot! Hahaha!
Here are the Services/Price/Rates/Menu of Big Bucket MOA.
As of the moment, they only accept cash payments. Boo! 🙂 Also, they have no Chinese Therapists available so please disregard the "C" option in their menu of services. I hope they bring them back soon. I want to try them (did that came out wrong?), if their Filipino Therapists are excellent, I'd like to see if their Chinese counterparts are better. 🙂
Hanggang Sa Muli! Paalam!
[AD] Want to earn while using Twitter and Facebook! Just Join and Register HERE!
_________________________________
By: DENCIO

Originally Posted On: www.DENCIO.com
Do You Like This Post?
Subscribe to the RSS Feed
Follow me on Twitter
Like us on Facebook
Email Me