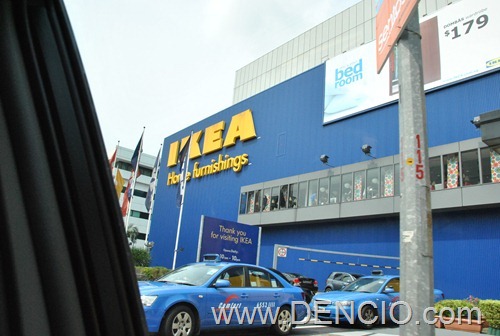 A great meal in a very unusual location! Who knew that inside this famous and huge furniture store, you can enjoy a very delicious and satisfying meal!
For those who are not familiar, IKEA is a privately held, international home products company that designs and sells ready-to-assemble furniture such as beds and desks, appliances and home accessories. The company is the world's largest furniture retailer. Many stores include restaurants serving traditional Swedish food, including potatoes with Swedish meatballs, cream sauce and lingonberry jam. – Wikipedia
I have learned that inside this IKEA Store in Singapore there is also IKEA Food & Restaurant. Which I heard – serve amazing Swedish meatballs!
Since IKEA's Shopping area is HUGE, they also provided a big space for dining. But even though they have a large space for these hungry shoppers, most of the time, they are at full capacity. IKEA is a self-serve restaurant. You buy food in a grocery-type manner. You get a cart, place several layers of tray, pick up food items inside the restaurant, then fall in line and pay at the cashier. It was so enjoyable!
The condiments looks awesome! Imagine yourself milking a cow?! :p
Here is IKEA Singapore's Menu (Click on the image to enlarge)
I was really surprised how reasonable the prices were. Considering that these are Swedish food items served in Singapore.
Now the Food… Here is what we ordered that day..
IKEA's Swedish Meatballs
15 meatballs served with mashed potatoes, cream sauce and lingonberries. It was really good! But to be honest, I don't actually know how to eat this. Do I eat them all together or Do I reserve the berries for later after I finish the meatballs and potatoes? I did actually ate them all together.. It was delicious.
If you want to take home some of these meatballs, you can actually buy them in bulk. They sell it frozen in a bag wherein you can re-heat or cook it again later.
Chicken Wings: Nothing special, just wings. Juicy Perfectly Cooked Wings. No special sauce either. You can eat it with ketchup.. or as is.
For the Dessert, We got the Daim Cake. IT WAS HEAVENLY! This cake is actually made with Daim Chocolates which is quite similar with Maltesers. Not to heavy, not too sweet! I wish we have this cake here in Manila.
This is a free roll that we got… if you reach a certain amount during food shopping, they give you free stuff. I tried this once, then that was it. I think it was chocolate and wasabi… Imagine that! Good thing it was for free!
That's it! If you happen to be in Singapore, You may want to Include IKEA in your itinerary. There are 2 IKEA branches in Singapore, One in Alexandra and One in Tampines. Aside from these great food Items, they actually have a lot of very useful and not so expensive household items. There are good quality towels. rags, curtains, tables and chairs, lamps, pillows and mattresses! The only trouble will be – excess baggage!
I hope IKEA opens a store here in the Philippines!
Hanggang Sa Muli! Paalam!
_________________________________
By: DENCIO

Originally Posted On: www.DENCIO.com
Do You Like This Post?
Subscribe to the RSS Feed
Follow me on Twitter
Like us on Facebook
Email Me