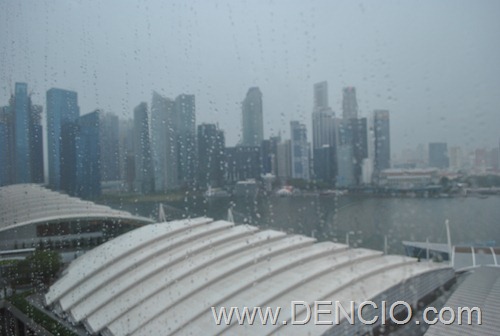 I'm back for Part 3 of my Marina Bay Sands Review Series. If you missed part 1 and 2, you may read them HERE and HERE.
A rainy Morning at Singapore… After our pleasant sleep at the Atrium Room, It's time for breakfast!
Like I mentioned on my previous post, breakfast is not included in the room reservation. So If you want to try their breakfast buffet, you need to go to Rise Restaurant at the lobby of Tower 1. The buffet price is $38++ SGD per person. To be honest, the price was surprisingly reasonable. Converted to peso it will only cost you around Php 1,600, which is the typical buffet price here in Manila.
I am not sure if you can reserve a table for the buffet. Judging from the long line of people waiting to be seated, I don't think you can (I did not really tried calling for a reservation). I think they are on a first come first serve basis.
As expected the buffet was big. Mostly international dishes but there are also a lot of local and regional dishes being served. Salads, Breads, Sausages, Bacon, Omelets,Fruits, Jams, And A whole lot more! Name it, they have it!
Fried Dumplings, Siopao, Cheese, Curry Puff, Ham, Bacons, Sausages!
Pancake with Nutella, Bite Sized Hash Browns, Corned Beef and Ham and Cheese Omelet.
My favorite breakfast item that day was the hot chocolate, I was informed that it was made from Cadbury chocolates. And true enough, it tasted like one. I want to try this one again! 🙂
Now, guess where these stuff ended up? (and oh, in case you are wondering, I left the pepper mill on the table! hahaha!)
Aside from the great food, One thing that I love about this breakfast experience was the presence our super friendly and hospitable Filipino service men and women. They will really make you feel at home. I have visited other countries in the past and one thing I learned was how good Filipinos were when it comes to providing excellent customer service. I am not saying these because I am a Filipino, but if truth be told, Filipino's particularly those working in service industry are really excellent – they are pleasant, warm, hospitable, and hardworking individuals. Now I know why international hotels like the Marina Bay Sands hire lots of Filipinos as their service staff.
After Breakfast, There a lot to do before lunch! See you Next Time! For Part 4!
Hanggang Sa Muli! Paalam!
_________________________________
By: DENCIO

Originally Posted On: www.DENCIO.com
Do You Like This Post?
Subscribe to the RSS Feed
Follow me on Twitter
Like us on Facebook
Email Me