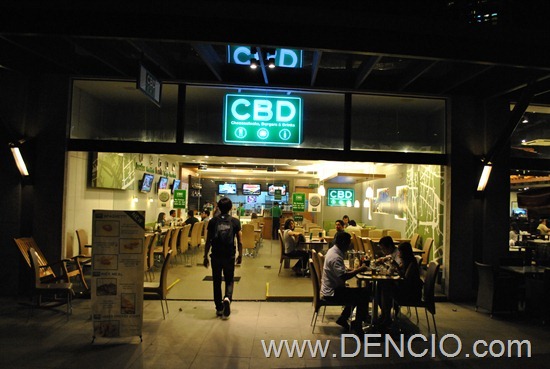 CBD (Cheesesteaks, Burgers, and Drinks)
Ayala Triangle Gardens, Makati City
Phone: (02) 621.6156 | 482.6225
Facebook Page: https://www.facebook.com/cbdph
Restaurants in Ayala Triangle Gardens has a wide variety of choices. They have Pizza, Pasta, Cakes, Yogurts, Coffee, Japanese, Vietnamese, Pinoy and Hainanese! But, for most people, they just want to eat comfort food – That where CBD comes in! They offer delicious and reasonable priced Comfort foods like Burgers, Spaghetti, Cheesesteaks, Fries, Onion Rings, Chicken Tenders, Milkshakes, and beers which they sell for only P35 per bottle, they even serve imported beers at a very reasonable prices.
The Interior of the place is Simple, Modern, and Clean. It's a casual, self-service dining experience.
Now, the Food..
CBD Onion Rings (P80): Made with real onions! if like this stuff… You'll love their onion rings. I personally prefer the Burger King Type onion rings, the semi-processed version. 🙂
CBD French Fries (P45): Plain and Simple
CBD Naked Chicken Strips (P150/6pcs): Why Naked? Skin is off the meat. The comfort starts here. Who does not love chicken strips with gravy?
CBD Cheese Burger (P160) and Spaghetti Combo (P145)
The comfort food continues… First of all I want to clarify that the spaghetti here is not a full order, the full order will be more than this. Anyway, the spaghetti is between the Pinoy spaghetti and the Traditional Spaghetti.. Not too sweet and not too sour either, perfect for everyone! The burger is good although it would be better if it was juicier.
CBD Grilled Chicken Steak (P195): For those who find comfort in Rice Meals.
CBD Bacon Cheesesteak Sandwich (P325): I know that most pinoys are not used to eating cheesesteak sandwich. But I urge you! Please Try! This one was really good! The beef was tender, the bacon was perfect and what I like about it the most… the bread! Most, if not all the time, you get this dry,tough, hard to bite and chew bread.. but this one is different. It was a bit softer than the usual. A must try!
Now the Drinks!!!
Above: CBD Chocolate Fudge Shake (P140) with a shot of Malt (P+20)
The Chocolate Milkshake was good on its own but the additional Malt Flavor really adds a distinct super yummy flavor to it. You have got to try this one! YUMMEEEEHHH!!! I never knew that the additional malt will make all the difference!
Below: CBD Vanilla Peanut Butter Toffee (P140)
Need I say more about this one? The Name is Yummy Enough don't you think?
After eating all that Burgers and Cheesesteaks, you may want to relax your tummy by drinking their freshly brewed coffee (P40-70) Quality Coffee on the Cheap! It's a steal! 🙂
So next time you are on the in the Ayala Triangle Area, you should pay CBD a visit. Try their burgers but don't forget their Milkshake with Malt!! It is a perfect place to Dine and grab some beer to cap the night.
CBD Full Menu: Click to Expand
And to Celebrate their first year Anniversary, they have an On Going Promotion. Dine and get a Chance to win an iPad! See poster below for details:
Hanggang Sa Muli! Paalam!
_________________________________
By: DENCIO

Originally Posted On: www.DENCIO.com
Do You Like This Post?
Subscribe to the RSS Feed
Follow me on Twitter
Like us on Facebook
Email Me