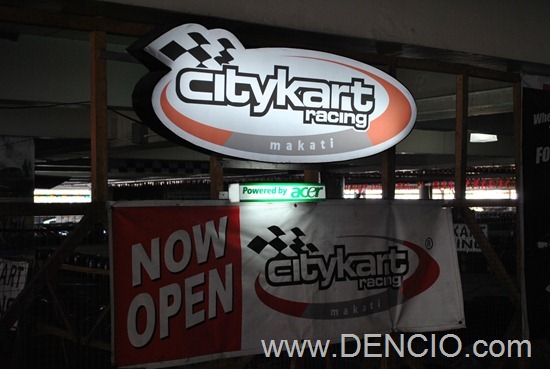 Without Being Caught! 🙂
Burn Those Rubber and Drive beyond the Speed Limits right at the heart of Makati CBD!
But Wait! Don't do that with your car! You'll get caught by the yellow guys!
If you are feeling the need for speed, go drop by City Kart Racing in Park Square Makati.
Here are 10 reasons Why:
It is Safe (as long as you follow the rules)
They have world class Facilities and Equipment
Well maintained Karts
They have this cool, state-of-the-Art, real-time, Professional Race Monitoring Software (the first of its kind in the Philippines)
Facebook Integration: Your results are posted in Facebook as it Happens and you can compare results with others after the race.
It is indoors, more comfortable
Complete Karting Accessories
Friendly and Helpful Staff
Super Affordable Prices
Super Convenient. You can literally race during your lunch break!
The Friendly Staff of CityKart Makati!
Before you start racing, you have to register using your Facebook Account.
Then, you have to sign a Waiver.
Then, a crash course on the Rules… Don't worry, its not that complicated! 🙂 BTW: That is the Owner giving instructions, Jean-Marc.
Then its time to Gear up!
The Heat participants will be displayed on these big monitors all over the place…
Time to get a Kart..
Some Last Minute Checks, and You're good to Go!
Then The Results! Can I just say, I haven't been driving for years, but to be in 3rd place.. It was so cool! 🙂
The Tracks.
In case of trouble, the tracks is well appointed with guys to assist you.
They maintain the quality and safety of their Karts everyday..
Real Time results are being displayed during the race. The ranking changes as well every time you are able to overtake someone 🙂 After the game (heat) your results will be posted on your Facebook wall then the complete results will be emailed to you for your reference! 🙂
CityKart Racing Makati Price/Rates:
There you go! Sounds Fun Right? You should try it, it is way way cooler!! 🙂 Its A great summer activity for Barkada and the Whole Family!
City Kart Racing Makati
7th Level, Parksquare 1, (facing Dusit Thani Hotel) Ayala Center Makati.
Tel: 856-9155 | Mobile: 0917-5859155
website: www.citykartracing.com
Twitter: https://twitter.com/citykartracing
Monday to Thursday: 3pm – 10pm
Friday to Saturday: 10am – 12mn
Sunday & Holidays (Except Christmas and Good Friday): 10am – 10pm
Hanggang Sa Muli! Paalam!
_________________________________
By: DENCIO

Originally Posted On: www.DENCIO.com
Do You Like This Post?
Subscribe to the RSS Feed
Follow me on Twitter
Like us on Facebook
Email Me