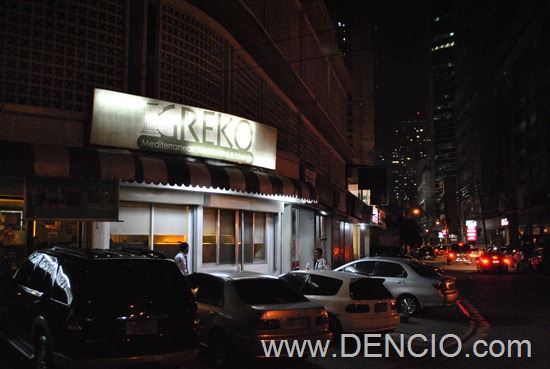 Greko Mediterranean Restaurant, Bar and Lounge Makati
Urban Ave Makati City (Near Makati Med, Behind Tropical Hut Hamburger)
Tel: 0915.9718383
If you are craving for Great Mediterranean Dishes and/or If you are looking for a place hang out near the Makati CBD area then you need to try Greko's. They serve great tasting and yet affordable Mediterranean Dishes.
Not Much on the Interiors, Just the Basics, nothing Fancy. But it was clean. The service was fast and the waiters were very attentive and friendly.
For Starters, Appetizer Sampler P200. Combination of Hummus, Baba Ghanouj, Falafel, and Olives Served with Regular and Fried Pita Bread. I am not really familiar with what goes into these dips but it was Good! And for just P200 pesos! It's a good Deal!
Now my Favorite! I am not sure if this is exclusive to Greko but this is definitely the first time I have ever tried this kind of burger.
Greko Burger P185. This is one of their specialty! It's a big juicy burger patty sandwiched in chewy Pita Bread with Tomatoes, Qusong Puti, Onions and Lettuce served with fries and a Mediterranean Dip! It was Good! 🙂 The patty has a hint of spice in it that gives it a truly Mediterranean flavor.
This is a Mediterranean restaurant so Kebabs is a staple. This one is their Kebab Platter P350. First of all, the serving was huge! This one is definitely for sharing! Chicken, Beef, and Fish (Cream Dory) kebab served over rice with tomatoes and dip on the side.
I don't eat eggplant as it is… I only eat eggplant when 1. if it is Torta 2. If it is made like this.. an Eggplant Lasagna or Moussaka P180. Baked Layers of Eggplant, Cheese, Meat Sauce and Béchamel Sauce! You can't go wrong with that! Healthy and Delicious!
Overall, Greko's Serve Great Mediterranean Dishes. My tip is – just don't expect a fancy place, it is not a fine dinining restaurant. In fact, most of the time it is a Bar! But If you are looking for a great tasting Mediterranean Quick Fix, then by all means, please go and try them out! 🙂
Hanggang Sa Muli! Paalam!
_________________________________
By: DENCIO

Originally Posted On: www.DENCIO.com
Do You Like This Post?
Subscribe to the RSS Feed
Follow me on Twitter
Like us on Facebook
Email Me