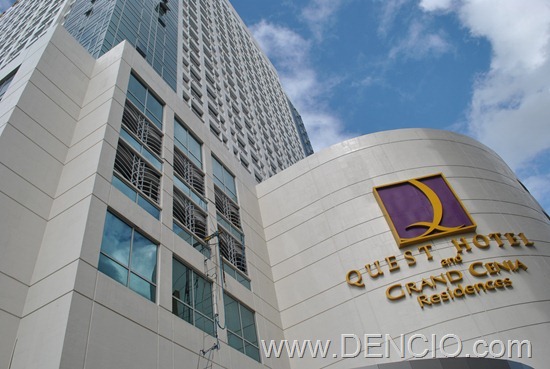 Quest Hotel & Conference Center Cebu
Archbishop Reyes Avenue, Cebu City, Philippines (Beside Ayala Center Cebu)
tel: +63 32 4025999
Mail: CebuInfo@Quest-Hotels.Com
HOMEPAGE
Quest Hotel Cebu is a Business Hotel Located at the heart of Cebu's Business District. It is conveniently located right beside Ayala Mall Cebu inside the Ayala Center. Quest Hotel is a 3-star Business hotel with a 5-star service and amenities. I was surprised that the hotel was only rated as 3-star since the facilities were top notch.
The hotel is a partnership between Aston International and our very own Filinvest Group. Quest Hotel is still in its soft opening and not all rooms and amenities are open. The Guest rooms, the restaurant, and the pool are all operational though.
Just like most hotels in Cebu, Quest Hotel offers superb Hospitality and Service. From your pick-up to your Guest Room, you will really feel the warmth and the hospitality of the hotel's service team.
The Lobby of the hotel was huge, clean, elegant and very Business-sy. It does not look and feel 3-star to me at all. Upon entry, You will be greeted with a smile by their friendly hotel staff.
Quest Hotel has an Outdoor pool for the guest to enjoy. I just wish they would be more strict on the dress code.
They also have big Function Rooms and Ballrooms for your Meetings and Gatherings.
Their Restaurant on the ground floor which is Tentatively Called "Puso" serves buffet breakfast and Ala Carte Lunch and Dinners. They also offer room service without the extra room service charge! Would you believe, they serve fried (fresh cut fries) for room service for less than P100! That is really cheap! Puso restaurant will finalize their Menu offering once they fully launch sometime this July.
Now the Rooms. Like I said, Quest Hotel offers superb service and facilities for a 3-Star hotel.
Clean, Elegant Hallways with Neutral Wall to Wall Carpets.
Electronic Key Card Entry
Standard Welcome Letter for every Guest (It would have been better it it was personalized)
Some Minibar Items and Complimentary Water
Clean and Functional Bathroom
Clean and Comfy bed with a Nicely Decorated Headboard.
Your TV with a Small Work Station and Coffee Making Facility
Most Rooms have Balcony which doubles as a smoking area. The glass door and window is tinted to prevent too much glare and sunlight in. This room has a View of the Ayala Center Cebu. the Hotel is located right outside on of the entrance of the Mall.
Free WiFi 🙂
The Shell Photography was done by one of the Hotel Owners. He likes taking photos of Shells.
This one is a Twin Room. Same features, Different Bed Configuration.
Now, you have seen the Hotel, how much would you think you have to pay for a Room like this? Surprise Surprise! The standard Rate is only P4,995 and since they are in their Soft Opening, they are offering the rooms for only P2,495 net! That includes breakfast for 2! What a steal! You get an elegant room at the heart of the city, right beside Ayala Center Cebu and you only need to Pay P2,495!
Quest Hotel Cebu will have a Grand Opening this Coming July. They will open all facilities and Rooms by then. hopefully I will be able to review and try out their other rooms by then. 🙂
Hanggang Sa Muli! Paalam!
_________________________________
By: DENCIO

Originally Posted On: www.DENCIO.com
Do You Like This Post?
Subscribe to the RSS Feed
Follow me on Twitter
Like us on Facebook
Email Me