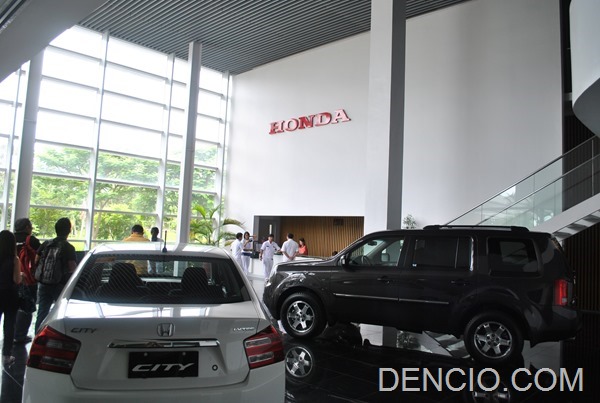 Go Green! It is probably one of the most used phrases nowadays, It's everywhere. Plastic ban, recycling, zero-waste and a lot more programs are being implemented just to minimize our carbon footprint, reduce pollution and help the earth recover. There are lots of huge projects being pushed out there to help the environment like reforestation, renewable energy, solar power, etc. but for most of us the most sustainable are the practical and easy to comply with initiatives which we can do on a daily basis. If you give people an avenue to help the environment, they will do it. For example, if you provide a waste segregation facility in your office or in public places, people tend to comply, why? Because it is easier for them. We don't focus on the size of the program but the impact, discipline and awareness that it provides. Yes, it may not have a huge impact per person but collectively, it will definitely make a huge impact in the environment. Same goes with driving. We all know that burning fuel really takes a toll in our atmosphere, even the most advanced vehicles out there still emits some Carbon Dioxide (CO2) into the air what more for your old car?
In the Philippines, 70% of the fuel burned are in the roads. That comes from the 6 million registered motor vehicles in the country which gives out millions of tons of CO2 in the atmosphere every year. And every year, hundreds of thousands of cars are being introduced on our streets. Not only does this cause traffic (another issue)  but it produces additional deadly CO2 that we share with our friends, family and kids. Here's a quick info-graphic video about climate change and air pollution in the Philippines.
Bothering isn't it? Now, you may ask, what can I do to help? I know you are willing but in reality lingering at the back of you mind, you were wishing it to be as simple as possible for easy compliance. Well, you can help in your own little way. Read on…
A few weeks ago, the President and General Manager of Honda Cars Philippines – Tatsuya Natsume San – invited several bloggers to visit their eco-friendly production plant in Laguna. We had a tour of the plant which produces/assembles Honda City for the Philippine Market (yes there is a locally made Honda). The tour includes showing us the step by step process in car assembly at the same time, showcases how eco-friendly the plant is. From their energy saving project via a high-tech energy monitoring facility to an in-house water treatment facility which collects and removes all harmful substances in the water before sending it back to the main line. Honda has been in the forefront in improving the air quality ever since. They are not just talking the talk but walking the walk when it comes to being green. Now, together with other agencies and organizations, they are promoting the advocacy of being green – or in their case being Blue.
Honda's 1M Blue Campaign:
"The 1'M Blue Campaign seeks 1 million drivers who will commit to practice eco‐safe driving to help address air pollution, climate change, and energy sustainability.

1'M Blue (read as I'm blue) is the catchphrase for 1 Million Eco‐Safe Drivers under the framework of Clean Fleet Management Program. 1'M Blue echoes Honda's global environmental battle‐cry, Blue Skies for our Children. It represents a passionate and unwavering effort to help preserve our environment for the next generation.

New partners to date who will reinforce the Eco‐Safe Driving and Clean Fleet Management Program are the Climate Change Commission, Department of Environment and Natural Resources, Department of Transportation and Communications, Metro Manila Development Authority, Technical Education and Skills Development Authority, PAC Fleet Solutions, Honda Safety Driving Center, and the GMA Network."
Now, you were asking earlier how can you do your share in Eco-Driving and Go Blue? We'll you may be surprised how simple it can be. BUT you must be committed and disciplined to live by it daily. I'm sure it will grown on you sooner rather than later. Here are some that you can do starting NOW!
Here are 12 Simple, Easy to Follow and Practical Eco-Safe Driving Tips.
Monitor Fuel Consumption
Record distance traveled and gasoline consumed to calculate fuel economy. Keep Track of your savings. What you monitor, you manage.
Plan your Journey
Avoid Congested routes and peak hours. Combine small trips and errands. Your Vehicle burns 20% more fuel every time you start your engine cold.
Drive Sensibly
Accelerate and decelerate smoothly to avoid unnecessary braking. Aggressive driving decreases fuel efficiency by 5% in city driving. Stay off the road if you are stresses, angry or over-excited. Sensible driving is safer for you and others.
Gas Up Wisely
Use only quality, clean fuels. Do not fill fuel tank to the brim and tighten gas cap to avoid spillage. Buy Gasoline at the coolest time of the day, early morning is the best. Those Euro Compliance Marks on the pumps are not a little expensive for nothing, they are really better for your car and the environment.
Drive your Vehicle to Warm it Up
Even on the coldest morning, running your engine for a few seconds is all you need before your vehicle is ready to drive. Your vehicle will reach its optimum temperature much faster when you are driving instead of idling. Newer vehicles don't even need warming up at all. Just start and drive away.
Maintain a Constant Speed
Pumping the accelerator sends more fuel to the engine. Drive at a steady speed in as high a gear as possible at low RPM. Keep rolling and avoid unnecessary stops as it takes more energy to move a stopped vehicle than to keep it moving.
Get Rid of all Extra Weight
Remove unnecessary, heavy items in your vehicle. Each 100lbs. of extra load reduces fuel economy by up to 2% and up to 5% with a loaded roof rack. Reduce aerodynamic drag and improve your fuel economy by placing items inside the trunk whenever possible.
Turn off Engine While Waiting
For any stop of more than 60 seconds, whether you're stuck in traffic of at a level crossing, or waiting for someone to get on, switch off the engine to lessen the fuel consumption and CO2 emissions. Idling wastes gas and money and gets you zero km/liter.
Observe Proper Maintenance
Change oil and oil filters at intervals recommended by your car manufacturer. Dirty oil and low oil levels can cause friction and rob you of gasoline mileage. Without a good tune up, vehicle uses as much as 20% more gasoline than a well-tuned vehicle.
Keep Tires Properly Inflated
Under-inflated tires are dangerous and require the engine to produce more power to drive the vehicle. Each under-inflated tire can cause a 1% increase in fuel consumption.
Park your Car Properly
Park your car in the shade of a building or a tree whenever possible. Use your garage for your car.
Consider Replacing your Old Vehicle
Measure the cost of keeping your old car and getting a newer, more fuel efficient vehicle. In this time and age, a lot of vehicles are made to be more fuel efficient and low maintenance. Small cars are in! Big SUV's are out! Even hybrids are keeping up with the time. You may say, hybrids are expensive… actually you may be surprised that Hybrid Cars Nowadays are more and more reasonable priced. Honda's CRZ starts at 1.39 Million!
Here's one of my favorite tip which I'm sure a lot of us (especially the Public Utility Vehicles) are guilty of – Counter flow! Very catchy too! "Bastos ang Singit, walang may gusto sa singit!"
I know it's a lot to take but you can start today, one tip at a time. Like I said, as ling as you have the commitment and the discipline, it will grow on you sooner than you think. And the more you do it, the more people around you will notice and hopefully, eventually follow your actions. No need to think big at the moment, let's start one step at a time.
Let us all Join Honda's 1'M Blue Campaign. Be Committed, be Disciplined. Let us do our share.
For more information about the 1'M Blue Campaign, please like them on Facebook, Follow them on Twitter and subscribe to their YouTube Channel for the latest updates and programs.
Facebook: https://www.facebook.com/1MBlue/info
Twitter: https://www.twitter.com/1MBlue
YouTube: http://www.youtube.com/user/1MBlueCampaign
[This is a Sponsored Post by Honda 1M Blue Campaign and an Advocacy post from DENCIO.COM]
Hanggang sa muli, Paalam!
_________________________________
By: DENCIO
Originally Posted On: DENCIO.COM
Do You Like This Post?
Subscribe to the RSS Feed
Follow me on Twitter
Like us on Facebook
Email Me
Read More Posts HERE