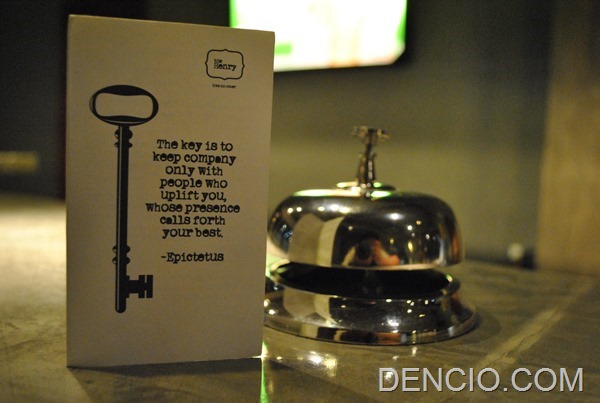 The Henry Hotel Cebu (Boutique Hotel)
Address/Location: 1 Paseo Saturnino, Maria Luisa Road, Banilad, Cebu City
Contact Number: +63 32 5208877 (Cebu) | +63 917 3050737 (Mobile)
Email: reservations@thehenryhotel.com
Website: http://www.thehenryhotel.com
Facebook: https://www.facebook.com/TheHenryHotel/
Twitter: N/A
I was really excited to stay at the Henry Hotel Cebu. Why? Because it will be my first time staying in a Boutique Hotel. I have an Idea on what a boutique hotel is all about – Uniqueness – but it is totally different when you experience it first hand. First of all, I think it is safe to say that the Henry Hotel is the best Boutique Hotel in Cebu City and one of the best Boutique Hotel in the Philippines which makes it more exciting.
Formerly known as the House of Cebu, the Henry Hotel prides itself by offering quality, comfortable and extra unique accommodation right at the heart of Cebu City. Located at Banilad Cebu (Near Banilad Town Center), The Henry Hotel is just a jeepney ride away from Ayala Center Cebu, travel time is around 5-10 minutes depending on the traffic.
Let us take a tour shall we!
Upon entry, you will be greeted by their friendly front desk representatives. Immediately, you will feel that you came in a museum or an art gallery. Artsy interior, Artsy pieces which are combined together to create an atmosphere of uniqueness and freedom. Even the front desk staff are dressed quite differently – quirkier – compared to your typical standard hotel. Really, this place is not your typical hotel. A beauty that needs to be appreciated in person.
One unique thing about being a Boutique Hotel (aside from the rooms) is that they can get away with everything when it comes to the design. There is no standard, individuality is the norm, you can't really tell if they forgot to paint a wall or ceiling or it was deliberately left out as part of the design. They can put a piece of non-color coordinated furniture in any room and still it will be able to blend in with the design and add a whole new character to it.
Indeed beauty is in the eye of the beholder, this 38-room Boutique Hotel not only offers Comfort and Function but they also focus on Art and Space. Each of their 38 rooms has been designed to look different from one another, however, if the design is unique one thing common among all of the rooms is the space. Their rooms are big! Literally! The smallest room – which they actually call "big" – can be your 36 square meter art gallery! The other rooms are named as Large, X-Large, and the Huge 108 Square Meters XX-Large room!
We checked in at room 314, it was a Large room. As expected the design was quite unique and the furniture don't really match according to normal design standards. But that was not surprise, the surprise was – the toilet and bath has no doors – literally open. People can just walk in on you taking a dump! Hahaha! More on that later… let me take you into the room.
Talking about hotel standard, the room at the Henry is complete. There is a Mini bar, Toiletries, Work station, Digital TV, DVD Player, a closet, Complimentary bottled water, plus towels and stuff. The WiFi has a strong signal and speed was also decent and consistent. As you can see above, anyone can just walk in and out of the Toilet. This is perfect for couples or honeymooners since it's a bit sexy and daring. But I think for a group of friends especially the younger ones who like to play practical jokes to one another, this may pose as a problem or a fun memory waiting to happen. Most of the rooms in the Henry are like this, but I believe there are a few rooms with bathroom doors.
Moving on, the room was really comfortable. It has everything that you will possibly need for a delightful stay. The linens and pillows in my room smelled like lavender. The bed was very comfortable however, like my usual problem with hotels, I found the pillow to be too soft. They did not have any firmer option so they just gave me a couple more to stack together. The rooms are made to be cozy that is why the lighting is a bit less. It may seem a bit dark for some people but there is a bedside lamp for reading. There were lots of electrical sockets inside the room, perfect for charging multiple gadgets. There is a digital cable box and a DVD player for your entertainment as well. The shower was terrific! High water pressure and consistent water temperature. They use natural shampoo and conditioner which does not lather that well. Good thing we brought our own.
Aside from being unique and artsy, the Henry Hotel also focused on the details. They have quite a number of nice collaterals and signage. The emergency sign was too cute!
If you are wondering how the other rooms look like (especially the XX-Large) let me give you a photo tour. But let me tell you first hand, they are really one of a kind!
Aren't they pretty? It is a totally different experience once you see these rooms first hand. There is  a pool on the ground floor garden area outside the hotel. Not too fancy but relaxing enough. There are also a number of activities and establishments around the hotel. There are spa's, bars, and restaurants. There is also a 7-11 nearby and a delicious Thai Restaurant beside the hotel.
Here are the Henry Hotel's room categories, sizes and rates/prices. Do call them from time to time because they offer promos especially for local visitors. But you must do it quick, they book rather quickly since they only have 38 rooms and a lot of people are curious about the hotel. I must say, the rates are very reasonable.
| | | | | |
| --- | --- | --- | --- | --- |
| Room Category | Size | Published Rates | Early Bird Rates (20 days advance) | Occupancy |
| Big | 36 m2 | P 3,600.00 | P 3,000.00 | 2 pax |
| Large | 42 m2 | P 4,200.00 | P 3,600.00 | 2 pax |
| X-Large | 72 m2 | P 5,500.00 | P 4,900.00 | 2 pax |
| XX-Large | 108 m2 | P 7,500.00 | P 6,900.00 | 4 pax |
P6,900.00 for a 108 m2 room for 4? Is that's a steal or what? If I am not mistaken, they also have a local residents promo of P1,950 per room. Please call to confirm.
Other hotel information:
Check in time is 2:00 PM
Check out time is 12:00 NN
Rooms are non-smoking (There are smoke detectors inside the rooms)
Extra Person/Extra Bed rate is P1,500
No Pets allowed
Late check out charge is 50% of the room rate (up to 6:00 PM)
Airport Transfer is Available
Breakfast is Plated (Served at Rica's Restaurant, will review next)
Credit Cards are Accepted
The Henry Hotel is operated by HII – Hospitality International Inc..
Hanggang sa muli, Paalam!
_________________________________
By: DENCIO
Originally Posted On: DENCIO.COM
Do You Like This Post?
Subscribe to the RSS Feed
Follow me on Twitter
Like us on Facebook
Email Me
Read More Posts HERE