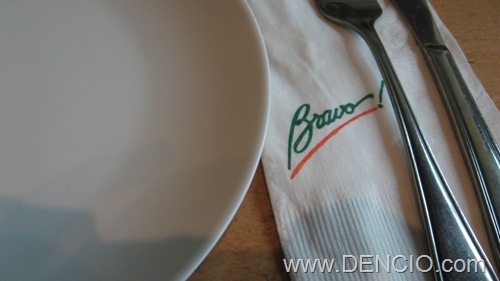 Lunch out at Bravo! Ristorante in Salcedo Makati. I have no further Introduction! Hehehe! :p
Plain and Simple Table Setting…
Free Food While waiting for the order… (Pag may mga free na mga ganito, mahal dun! Hehehe!) Anyway, the spread was really good I must say, It was a bleu Cheese spread… Very flavorful! And FREE (w/ refills!) :p
Choco Banana Nut Shake (P110++) If you like this combination.. You'll love this one!
Prosciutto di Parma con Mango Salad (P355++) Parma ham with fresh mango.
I love Mango… I love Lettuce… I love Ham… What's not to like about this salad?!
This Salad was good! The sweet mango and the salty parma ham really complement each other.
Just one trivia I got after eating this Parma Ham… it was actually raw meat… just cured in salt and other flavors.. then dried… Yeah! I was able to eat raw meat! But in fairness to the Ham… It does not taste like raw meat at all.
Salsiccia al Vino Bianco (P275++) Italian sausage in white wine.
Italian Sausage!!! Again, What's not to like! 🙂
Quattro Formaggi (Four Cheese) (P395, 14") mozzarella, parmigiano, gorgonzola, cream cheese.
One of their specialty is their pizzas, but… sorry to say, it was not good enough for me. Probably because it lacks flavor compared to the other pizza that I have tried. I have tried better all cheese pizza. It is probably the combination… it could be better.
There are Cheesier Pizza's Out There! 🙂
Margherita Pizza (P240.00) tomato, mozzarella, oregano, parmigiano.
A Classic Pizza Flavor… Not too flavorful either.
Prosciutto di Parma Pizza (P395++) tomato, mozzarella, prosciutto di parma.
This one tastes like the Margherita… The only difference is the Parma Ham topping.
Bravo Pizza (P395++) tomato, mozzarella, Italian sausage, onions, mushrooms.
If I remove what I don't eat in this pizza… I am better of with the Margherita… Hahaha! :p
Spaghetti Bolognese (P270++) Classic spaghetti with tomato and meat sauce.
Not really that flavorful for me, but of course, this is spaghetti. I'm still diggin' it!
The price is a bit hefty for such a small serving… Serves 2, or 1 if for myself.
Spaghetti ai Gamberi (P295++) Spaghetti with shrimps, tomato and lots of garlic.
Spaghetti Carbonara (275++) Spaghetti with egg, cream and Italian bacon.
Over-all, I guess, I can say that I am not really a fan of hardcore Italian food. I like italian food with  some "Pinoy" touch to it. I won't say that the food was not good, but I was just not impressed.
But of course, don't take my word for it! :p  If your taste buds still clamor or like authentic… or at least semi-authentic Italian dishes, you'll surely enjoy eating here. AND – there are so many other dishes on their menu that I haven't tried. I might still find an appealing dish there.
Also, I must say this, I really like their Deli Products! Specially the Bottled Sauces, Dips, and Spreads! GOOD!
Bravo's Menu Can Be Found HERE!
Bravo's Website is HERE.
If you like this post, you may also want to check out these related posts.
Chi's Brick Oven Kitchen; A Venetto Pizzeria; Niro Pizzeria
Tarragon Restaurant; The Old Spaghetti House
Hanggang Sa Muli! Paalam! 🙂
_________________________________
By: DENCIO
Originally Posted On: www.DENCIO.com
Email Me | Post a Comment | Subscribe to My BLOG (RSS) | Follow me on Twitter