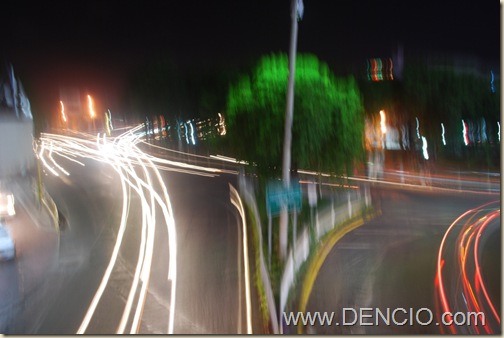 Oh no! It is already Dinner Time! and yet, We are Still so stuffed from our amazing lunch at Hilton Cebu, but it is time to eat once again… Gluttony Ito! :p
Larsian is a very well known place in Cebu… It is a tourist attraction on its own. What They Offer? Barbeque! Lots and Lots of Barbeque! They say, you have never been to Cebu if you have not been to Larsian.
According to the peeps there, this Larsian is the "New" Larsian… I am not sure where the old Larsian is… But for Me This is the Only Larsian! Hehehe! :p The Place is just a five minute walk from Crown Regency, it is near Osmena Circle. Located along the Dirty M. Cui Street, Larsian is Hard to Miss… Sabi nga ng Pulis… Hanapin nyo lang Usok! Hehehe! :p
After a few moments of walking along the dirty and quiet street of M. Cui. We found what we were looking for! When We entered the gates of Larsian, we were bombarded with lots and lots of greetings and sales talk from the vendors… "Sir Dito Po" Sir BBQ" Sir Dito po may Electric fan"! Wow! Super Sales Talk ang Mga tao! I feel like a celebrity! Hehehe! :p
There were about 50 stalls inside Larsian, practically selling the same thing! What sets them apart from each other is the "extra" feature or amenity that they offer the clients.. For example, since the place is filled with smoke… Some offer Electric Fans on the table, others have TV on the side… Others offer free soup! 🙂
Anyway, we decided to settle an a nice and quiet place in the room, away from the noisy area of Larsian, but not away from the USOK! :p
Yes, Yes! Don't Get Confused! This is a Barbeque Stand… It is not what you think! :p
They serve BBQ, Kanin na nakabalot called "Puso", and Free Soup with Malunggay which was so good! The Puso cost 3 pesos each, that is around 1/3 of a cup of rice. Their Puso was not hot… sayang! It would be better if it was served hot!
They also have Red Egg and Tomatoes!
And Of Course.. The Suite Sixteen Quality MEATS! :p
After a few minutes of waiting… It is time to eat! :p
And After a few minutes again…
Pack Up Na! Super Usok! Grabe! Total Bill for 1 Chicken BBQ, 3 Longganisa, 3 BBQ, 2 Puso, 1 Sprite… Php 140 Pesos! San ka pa! :p
By the way, the BBQ were really GOOD! As In! 🙂
Too much Meat! Time For Dessert… Authentic Cebu Dessert Item! Cebu's Sundae McDo! :p
It was getting late! Bedtime Na! :p
Tomorrow… City Tour! 🙂
Hanggang Sa Muli! Paalam! 🙂
_________________________________
By: DENCIO
Originally Posted On: www.DENCIO.com
Email Me | Post a Comment | Subscribe to My BLOG (RSS) | Follow me on Twitter