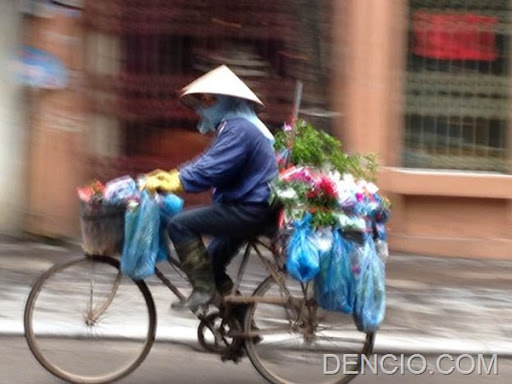 Remember when we were all a lot younger, when we used to think that flying within the country was too expensive, more so, internationally? When I was younger, I had dreams of seeing places, but never really believed I would do so, because of the chi-ching-chi-ching.
But on the 3
rd
day, budget airlines were created, like a manna from heaven. They're like pixie dusts to one's itchy feet you know, setting aside delayed flights and rude customer service, of course.
Sometime in May 2013, I got lucky and was able to book a roundtrip flight to Manila-Hanoi-Manila. Like I said before, I didn't really care where I was going, or who I was going with. The important thing was to leave, at a really cheap price. At Php3,900.00 , I flew solo.
I took the 10:30 PM flight and arrived at the Noi Bai International Airport at a little around past 1AM, Hanoi being 1 hour behind the Philippines. I didn't want to risk my safety, so I booked a nice and decent hotel, which also made arrangements for my tour and car service to pick me up to and from the airport. Having no checked-in baggage (please don't judge me, I know I am kurips), I got out of the airport around 2-ish. A note of warning, I read some things that one should be extra cautious in dealing with fly-by-night Forex, and it is advisable to just have your money changed at the airport. However, I didn't see any open Forex at past 1AM. Another note of warning, do read up before going some place. Apparently, I read the wrong materials. March was supposed to be summerish already, as in my country. But as soon as I got out of the airport, the cold greeted me. It was drizzling, the air was moist, I checked my phone, it was 16 degrees. Holy crap, I brought all the wrong set of clothes.
The hotel's driver was already at the arrival area. By 3AM, I was at the hotel.
I booked at the Angel Palace Hotel, located at the Hang Bong St. within the Hoan Kiem District (Old Quarter area.) The hotel is a 45 minute drive to and from the airport. From the outside, it looked like a really small palace, with gold-plated pillars. They like 'em grand!
For reference, this might help you plan your trip:
Room rate per night: $37, after tax $ 42.7 with free one way trip to the airport, and breakfast buffet
$18 per car going to the airport upon departure
$50 : One day cruise to the Ha Long Bay inclusive of all transfers, lunch and kayaking
$40: One day Hoa Lu- Tam Coc trip inclusive of all transfers plus lunch buffet.
The hotel asked for a $100 down payment via credit card to process my request, the remaining balance to be paid upon check out.
There are a lot of cheaper hotels in the area, but I looked through Trip advisor and Agoda for the hotel reviews which was very helpful, by the way. I suggest you do this before booking a hotel. And so far, so good. I definitely loved my hotel.
The next day, the Galaxy Cruises, which I would assume, is the Tour Operator tied up with my hotel picked me up at 9AM. They were one hour late, they had to fetch other customers from different hotels. Of course, I complained. The accent in my coaster was thick, I was seated beside 2 married French retirees who knew little English but were kind to me, there were 2 men from Laos, 1 Vietnamese woman with her American boyfriend, 1 woman from Brunei, 1 man from Malaysia, 1 Danish man, a Polish couple, our Vietnamese guide who liked being called Kevin, as in Costner, and me- Pilipinas, represent!
Since I was the last to be fetched, I sat at the back of the coaster, uncomfortable at a 3 hour long, bumpy ride. We stopped over at some souvenir shop/ café for 30 minutes. Knowing that the souvenirs from this place would cost more compared to those found at the Old Quarter, I didn't buy anything. Just a cup of Vietnamese coffee at 40,000 VND. And to be on the safe side, I took 1 banana from the hotel, you know, in case I go hungry. 😀
Beautiful, isn't it? It reminded me of the mountains surrounding Puerto Prinsesa, Palawan, Philippines going to the Underground River. I also met a group of Filipinos who were out for a company vacation, and yes, they took my pictures. Hurrah!
By 9PM, I was back at the hotel. Too tired to go out and explore, I opted to have dinner at the hotel. I forget the name, but the chef recommended it.
The following day, the hotel staff felt the need to redeem itself, and asked Galaxy cruises to pick me up on time. True enough, by 8AM, the coaster was outside. I was the first customer in the car, and I got to choose the best seat in the house.
By 8:35AM, we were all aboard and so the 3 hour journey to the Hoa Luc-Tam Coc began. 2 Korean women (mother and daughter) sat beside me, and the rest were all Europeans. One thing I noticed, Asians tend to revolve around each other, we were more at ease with each other. Plus the fact that "Omma" (Korean term for mother) was so sweet; she was worried for me being alone on a trip.
We stopped by a buffet restaurant for lunch, which proudly serves goat meat. Ah, nothing special about it really, I come from a country that boasts of "balut"; and from a province in the North where we eat caribou and goat meat anytime, anywhere.
Hoa Luc was the ancient capital for Vietnam located in the Ninh Binh province, around 110 kms from Hanoi. It is composed of two temples.
Tam Coc, on the other hand, is considered the Ha Long Bay on land. The rice paddies, sitting beside the river was just too beautiful. The Tam Coc river cruise lasted about 1 and a half hours, get ready to be swayed by the gentle touch of the river it will make you really sleepy.
Most of the boat paddlers are women, by the way. We tried our hand at it, and it was so difficult our arms were sore. That explains the reason why these women, when tired, use their legs to paddle, which must be very difficult. If I did that every day, I am sure I would have the most toned arms and inner thighs in the ugh, universe. J
The annoying part of the trip was the part where all these boat paddlers would take you to the small floating market, the sellers bugging you to buy food, and if you refuse, they tell you to buy something for your boat paddler, which is ok. But at 5USD for a plastic of mangoes, that wasn't ok. My Korean friends were very nice, they bought it. Upon purchase too, they ask for 1 USD for service fee, and there were 2 of them. So that's 7 USD. And then the part where your own boat paddler parks the boat somewhere far from the dock, where you cannot refuse, and sells you stuff. She wouldn't really budge, I bought a coin purse for 50,000VND (php107.00). Upon arrival at the port, she asked for a tip, I gave her another 50,000VND. A tip is usually customary, I know. But you do know if it's a little bit too much, it kinda smells like a rip-off. So in case you go, beware. Be smarter than we were.
After the river cruise, I didn't know that biking around the small town was part of the tour package. Cool, right? But your
lola
is a corn ball. I have so many physical limitations it's annoying.
Lola
can't swim,
Lola
doesn't even know how to ride, drive or pedal a bike. Note to self: will have to learn to better enjoy things.
By 7:30 I was back at the hotel. By 8PM, I hit the streets of the Old Quarter hunting for dinner. I wanted the real thing, and I found a carinderia somewhere along the alleys of the Old Quarter. For 35,000VND (Php75.00) I had rice noodles in sweet and sour soup with pork bbq and spices, or what they call Bun-Cha. In Filipino, ang sarap!!!
By 8:30PM, I was strolling and shopping for souvenirs. Bought ref magnets for friends. Depending on the size, the price would range from 20,000 VND (Php43.00) – 80,000VND (Php172.00). A pack of 3 in 1 Viet coffee costs around 40-50,000VND (PHP85.00-PHP172.00).
The following day, I rose up early and went on a city tour by myself. Armed with a city map and some cash, I prayed to God to keep me safe. I took a cab going to the Ho chi Minh Mausoleum, which was near my hotel. Fare was around 35,000VND (Php75.00). There was only way to enter the park where the mausoleum was located, and the cab cannot go there. So like all visitors, I walked a few extra miles. There was no entrance fee for the mausoleum (yey!), security was very strict. There were only parts where taking of photos were allowed, any kind of noise is strongly admonished, no caps allowed, hands outside the pocket all the time. The guards were sprawled everywhere.
I wish I could've taken photos of Ho Chi Minh in his glass casket, but to my dismay, it was prohibited. Looking at him, the man was larger than life. Looking at him, lying there, it was almost eerie and unreal.
After this, I just followed the throng of people without really knowing where to go. I wanted to see the Presidential Palace, the one Pillar Pagoda, and the Ho Chi Minh Museum, and I thought I needed to ride a cab again or walk far. But nope, by following where all the people went, I ended up at the Presidential Palace, that was when I understood the map finally. Hihi! The garden was one big "park" where the mausoleum, Presidential Palace, One Pillar Pagoda and museum are located.
Fees are:
Ho Chi Minh Mausoleum- none
Presidential Palace- 25,000VND (PHP54.00)
One Pillar Pagoda- none
Ho Chi Minh Museum 25,000 (PHP54.00)
After this, I decided to go the Hanoi Opera House by taking a cab. Fare was around 140,000VND (PHP 300.00), and from there I walked, got lost a lot of times, took so many photos of the city and drank on the beauty of their architecture. The opera house is located at the French Quarter, and then I understood why it was called the Paris of the East. It was because of the architecture. Well, I have never been to Paris, but from what I saw from the movies, the French Quarter looked a lot like 'em movies.
From the French Quarter, I walked and walked and somehow ended up back at the Old Quarter. And finally, I saw the Hoan Kiem Lake (Lake of the Returned Sword) at day time. I found a small resto serving Viet coffee and had a wonderful view of the Lake from the top.
They say a must watch is the Water Puppet show, also located at the Old Quarter. It was one-hour puppet show, I think. I didn't really fell like watching it, I just wanted to stroll, shop, sit at a coffee shop and people watch. But in case you are interested, the reviews are great. Ticket costs 100,000VND (Php214.00) and 60,000VND (Php129.00) per person. The schedule differs so it is good to book through your hotel. But when I passed by the theater, I checked and the show was at 3PM.
So I sat at a café, it is called Thuy Ta beside the lake. Fresh brewed Viet coffee costs 40,000VND (Php85.00) and a slice of lemon cake costs 35,000VND (Php75.00). So much better than the overpriced commercialized coffee shops, eh! I had all the time in the world to go to more temples and museums, but all I really wanted to do was to walk around. So I did. I walked the mile and went back to the French quarter and just stared. Oh Paris, where art thou?
I went back to the Old Quarter for dinner by walking. I think it was a 20-30 leisurely walk. Dinner consisted of rice and beef simmered in lemon grass and spices, the best food I had in Hanoi. It was at restaurant called Cau Go Vietnamese restaurant, at the 5
th
floor of a building over-looking Hanoi city. Fancy place but the food was affordable.
I am not sure if I had been really helpful to you. My vacation consisted of sight-seeing, eating, walking, sitting, walking, walking and walking. No pressure, really. J
The good news is, I spent a decent price for this trip. I am sure, if you were wiser than me, you'll spend even less:
Php3,900.00- roundtrip fare
Php1,650- Philippine travel tax
Php550.00- terminal fee
Php500.00- cab fare to and from the airport to my house
Php6,600.00- total
$256.00- 4 days 3 nights accommodation with breakfast buffet, 2 day tour all inclusive except dinner, one way car service to airport upon check out
$100 – pocket money for dinner, shopping and miscellaneous.
$356- total
OVER-ALL Expenses
: Php 22,709.00 or $501.86
By 11PM, I was back at the airport, ready for my 1AM flight home. By the way, as if as an anti-climax, our flight was 20 minutes delayed. Because it was not 2 hours, or 20 hours, 20 minutes was forgivable to me.
So I went home. With my fake North face bag, my traditional Vietnamese hat, and my memories. Priceless.
[End]
HANOI, the Paris of the East
Authored By: Maria Angelica "Gege" Espaldon
About the Author
Gege is a Contract Manager by day and a
cam-whore
traveller in between. She is a self-diagnosed bipolar with a penchant for travelling, fun, adventure and living a little dangerously, but her bank account keeps telling her she's really not so she better stop with her delusions.She dreams of winning the lottery and flying to Nepal, Amsterdam and India. A girl can dream.
You may follow Gege on:
Facebook:
www.fb.com/mariaangelica.espaldon
Instagram:
http://instagram.com/angelielexi/
Hanggang sa muli, Paalam!
_________________________________
Originally Posted On: DENCIO.COM
Do You Like This Post?
Subscribe to the RSS Feed
Follow me on Twitter
Like us on Facebook
Email Me
Read More Posts HERE