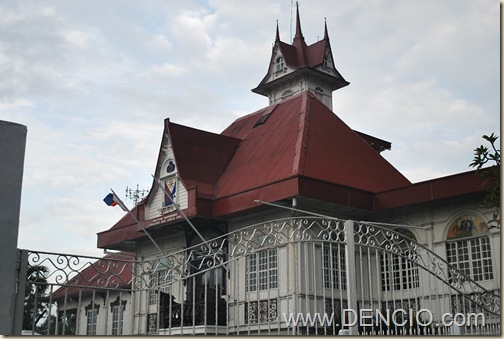 If you happened to be in Kawit Cavite Area, and you are craving for some tapsilog, you may want to visit Kawit's Hidden Tapsihan.
Hidden at the heart of Kawit Cavite, this infamous Tapsilogan is a favorite among locals and visiting tourists. In fact, It has been featured in different TV shows.
Hidden Tapsihan is truly hidden inside the town, If you are not familiar with the place, you will have to ask the people for directions. From the streets, you won't be able to see the establishment because it is located at the end of an alley. If you are lucky, You will only be able to see this signage located at the entrance of the alley going to Hidden Tapsihan.
The place is big. Bigger than the usual tapsilogan out there. They have clean tables and friendly waiters to take your orders. Service is relatively fast. And the Price? More expensive than SEX 🙂 But still cheap 🙂
What sets this tapsihan from all the others is their Vinegar. Their suka is a bit sweet and not too sour. If you combine it with ketchup and hot sauce, you will have the perfect sauce for your tapa!
Tapsilog P60 Tapa-Sinangag-Itlog
As for the Tapa, It was ordinary. Actually, it was a bit dry for me. It was not that juicy but still very tender. Their tapa was mildly seasoned. It was not that flavorful compared to other tapas out there. But once you dip it to their special vinegar, its a different story! Mmmmmm! 🙂 Perfect Combination! 🙂
They sell their special suka… For only P35 you can have their special vinegar for your home cooked tapa and longganisa 🙂 They also have the famous Cavite Tahong Chips 🙂 And Pork Chicharon… Suka + Tahong Chips + Chicharon = Hypertension! 🙂
Here is the Menu of Hidden Tapsihan. Aside from Tapsilog, they have a wide range of food choices. 🙂
Next Stop… Laidz Tapsilog in Imus Cavite!
Hanggang Sa Muli! Paalam! 🙂
_________________________________
By: DENCIO
Originally Posted On: www.DENCIO.com
Email Me | Post a Comment | Subscribe to My BLOG (RSS) | Follow me on Twitter