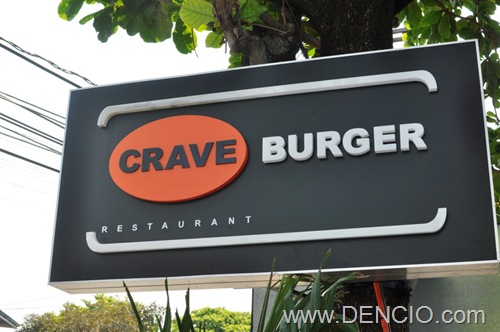 Crave Burger Restaurant BF Resort Las Pinas
Sidanza Bldg. Editha Vital Corner Gloria Diaz Streets.
BF Resort Village, Las Pinas City
(02) 871.1272
There are a lot of Burger Places opening up in the Metro Now. All trying to offer something different and getting a share of the Burger Loving Market. And Now Here's another Burger Place that I think is very note worthy. Crave Burger.
Crave burger is conveniently (for me) located in BF Resort Las Pinas. Since the place is located in a residential area, the ambiance of the place was very relaxed and laid back. Very homey. It is a really good place to hang out with friends while enjoying their sumptuous burger!
Crave Burger Las Pinas Offers both Smoking and Non-Smoking Areas. The place was very clean and the staff were very helpful and friendly. They also have free WIFI for all their Clients. A speedy connection I must say…
Now the Burgers. Their Menu is short and simple. Everything you need to enjoy your burger craving is available. And the Burger… Very Good!
Red Iced Tea and Blue Lemonade Php 45.00
Twister Fries P85.00
Crave Cheese Burger (Single Patty) Php 140.00
Crave Double-Double Burger (2 Patty and 2 Cheese) Php 195.00
Chicken Wings 5pcs (HOT) Php 225.00
They also Serve FIC products inside the store.
The Burger… Very Juicy and Flavorful. I decided not to compare their burger with the others, but on its own, it is a very good burger. The patty is pan-grilled making it very juicy since the flavor and the juices of the beef are locked inside. The Fries.. Very McDo Like, which is good! By the way, they call their fries skinny fries not because it is thin or skinny but because it has its skin on. 🙂
Crave Burger Menu
Crave Burger Franchise Info
Overall.. Crave Burger is another Noteworthy Burger Restaurant. They did not aim for the Biggest or the Fanciest but they just focused on what is Important. The Taste, Quality, and The price. Which I find very reasonable! I would not say that this will be my new favorite or the best out there but I am sure that I will definitely be visiting this place again and again…
Hanggang Sa Muli! Paalam! 🙂
_________________________________
By: DENCIO

Originally Posted On: www.DENCIO.com
Do You Like This Post?
Post a Comment
Subscribe to the RSS Feed
Follow me on Twitter
Like me on Facebook
Email Me