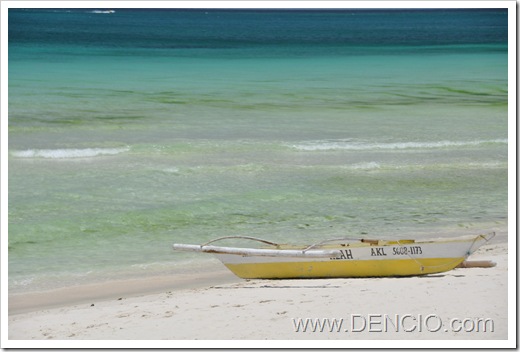 I went to the Magnificent Island Boracay last 26-29 March 2010. Powdery White Sand Beaches, Breathtaking Sceneries, Great Sunset, Great Food, and Great Music! It was a lot of fun. Fun, meaning – lots and lots of Kain, Tulog, and Tunganga Moments! Saya! :p It was my first time in Boracay and in this post I will be sharing some info which may help the first time and the not so first time Boracay Tourists.
Travelling Expenses:
Your expenses does not end in you buying the plane tickets and booking for a resort. Travelling in Boracay is not easy on the pocket. Here are the other expenses you may encounter during your trip.
Airport Terminal Fees is P200 in NAIA 3 or Centennial Terminal NAIA 2. Upon Touchdown in Caticlan Airport, You have to pay P50 for a tricycle ride to the Jetty Port. If you are coming from Kalibo, you have to pay another P150-200 for the Van which will take you to the Jetty Port where you have to pay P50 Pesos Terminal Fee and P25 for the Ferry Ticket which will bring you to the Island. Upon reaching the Island, and if your hotel/resort does not offer pick-up, you need to shell put P100-200 pesos for the tricycle ride depending how far your resort is from the Cagban port.

Going Back, You have to pay again for the Tricycle to the Port, Pay P25 for the Ferry Ticket, P50 for the Terminal Fee, P50 For the Tricycle to  Godofredo Ramos Airport (Caticlan Airport) and P20 Airport Terminal Fee.
So Let us do our math… more or less, just upon reaching your resort, you have already shelled out more or less P600! That is even higher that the Promo Tickets of your favorite airline! :p Need to go to an ATM?! Don't worry, there are around 10 ATMs on the Island and I saw 4 Major Banks in Operation, BPI, Metrobank, RCBC, and Allied Bank. Credit Cards are also widely accepted around the Island.
The tricycle ride on the Island if you wish to go around costs P50-100 depending on the Manong Drivers Discretion (Dapat P10 lang talaga ang pamasame kaso…walang nag reregulate!). So If you don't want to incur additional expenses, Use your resort's free shuttle service, Stay Put!, Or Better yet, Walk along the Beach… it is a great exercise! 😛
The Food:
Dining will most likely be the biggest chunk of your expenses on your visit of the Island. The Food in Boracay, as expected, is EXPENSIVE! But definitely delicious and enjoyable! 🙂
Breakfast: If you booked a Nice Hotel/Resort on the Island, Lucky You, you probably have a free breakfast waiting for you when you wake up in the morning.
But for the most of us, Be prepared to shell out around P200+UP for a breakfast along the beach (I suggest eating at Jonah's – which I will be reviewing later).
For your Lunch you have to luxury of choosing from a multitude of Restaurants and Dining Areas along the beach. The cheapest place I saw was a Tapsilogan inside Boracay's D'mall. Tapsilog costs P70. But the rest, be prepared to pay P200+UP for a  decent filling lunch.
I am sure that your are still full from your wonderful lunch, but For your Dinner, there are a lot more choices for you since some restaurants only open during the night especially the resto-bars along the beach.
Dencio's Tip: Instead of eating À la carte, try eating on the several restaurants along the beach which offers Buffet dinner. Price Starts at  P250 for the low end up to 1,000K++ for the high-end hotels in station one. This a cheaper and better dining experience! :p Just remember to choose wisely because some buffet may be a bit expensive than the others but they offer extras like dessert, unlimited BBQs, or bottomless iced tea. Others have additional charges like VAT or Service Charge… Don't be shy to ask around and compare the menu… after all, you are on Vacation… No Hurry! 🙂
If you are craving for something from back home, there are also some familiar dining establishments on the Island. Others even offer Food Delivery. Yes, Boracay Food Delivery! You can Have Pizza practically anywhere on the Island.
Yes! Pizza Delivery! You may Call Shakey's Boracay at (036) 288-1777 or Yellow Cab Pizza (Yes, they have the actual yellow scooter on the island) Free Delivery at (036) 288-5550. And if you are craving for some Coffee… You won't miss Starbucks Coffee since they have a Branch in Boracay! And apparently, their coffee taste better when enjoyed on the beach.. :p
For your midnight snacks, you should try the Chori-burger and Hotdog BBQ offered by the BBQ stalls along the beach. 🙂
Certainly you won't ran out of choices for your dining pleasure in Boracay, what's important is you enjoy it! And what better way to enjoy the food than eating it along the beach with the Sun above and Sand on your Feet…
Moving Forward… The Nightlife:
When the sun sets, the Heat and excitement never stops in Boracay! Actually, It is just about to start! Beer by the Beach… Perfect! For the party and gimmik lovers, There are a lot of places to choose from, there are lounges, bars, grills, some play Hip-Hop, others have DJ's, others have lounge music, It will really depend on your preference. Other offers Fire Dances… The prices were reasonable, One bucket of Beer Costs P250.00, Not bad! Cocktails costs P120-Up depending on the bar. Also, you do not have to stay in one Bar, Bar-Hopping in Bora is as easy as Walking along the beach! 🙂
Dencio's Tip: Most of the Bars along the Beach offer's Happy Hour Promos, where they offer Buy 1 take 1 drinks! Yes! 2 Margarita or 2 Tequila Shots for only P120 Pesos! Happy Hour is From 5PM to 7PM. 🙂 Booze before Dinner! Why Not! :p
Water Sports and Other Activities:
There are lots of Activities you can do while on the Island. Just be prepared to shell out some more money as these activities don't come cheap. Price Ranges from P500 up to Sawa! :p Here are some of your Options:
Banana Boat

Flying Fish

Jet-Ski

ATV (Which you can take to the Bat Cave, Mt Luho Pt, and the Other side of the Island)

Paraw Sailing

Kite Boarding

Para Sailing

Surfing

Snorkeling

Diving

Walking Under Water

Island Hopping

ZORB Ball (The newest activity on the Island)

And a whole lot more!
These activities are offered by agents along the beach, just be wise and find the best offer, some offer these in a package which will make it cheaper. Always remember, Haggle for the Best Price! you have a lot of choices! 🙂
Lastly, Relaxation (My Favorite):
You are on a vacation to feel relaxed and to rejuvenate, so if you want to take your relaxation to the next level, why not go to one of the SPA's along the beach, or call a masseur for a room service. There are also a lot of SPA's on the Island, there are the expensive Well knows hotel spa's which charge a minimum of P1,800 for a 1-Hour massage. There are also the masseurs along the beach who charges only 350-450 pesos/Hour! 🙂
Since My feet was aching that day due to the non-stop walking, I tried the Island Foot Spa, which is the first foot spa salon in Boracay. It is located in station 1 near Yellow-Cab Pizza. They are similar to Tip's and Toes. I tried their 1-Hour Foot Massage, and WOW! I LOVED EVERY MINUTE OF IT! 🙂 It was soo relaxing! They Massage your Soles and Put some acupressure using stones. After which, they massage your Legs, arms, and then your Neck and Shoulder! OMG! How I wish our resort was beside the Spa! I am about to doze off!  It is a must try! :p For just P550! It was worth every centavo!
For a Whole body massage that is not so expensive, Try the Nigi-Nigi Too Massage areas along the beach, They only charge P500 for a 1-hour massage and they have a private therapy room 🙂 But if you like to Splurge, you can go to the Mandarin Boracay for some more expensive R&R! 🙂
So that's it. You had a Wonderful Vacation and At the Same time, Spent a few thousand Pesos! 🙂 Which is all worth it, I must say! 🙂 I will be reviewing our resort and some parts of our trip next time! 🙂 Hope you like the post! :p
Hanggang Sa Muli! Paalam! 🙂
_________________________________
By: DENCIO

Originally Posted On: www.DENCIO.com
Email Me | Post a Comment | Subscribe to My BLOG (RSS) | Follow me on Twitter