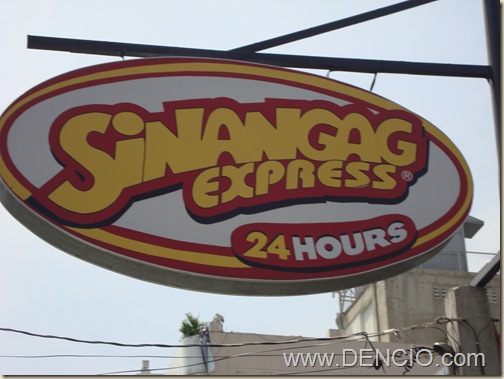 Tapsilog is one of Pinoy's most loved comfort food. And what's not to love! It is cheap, delicious, fast, and Served everywhere. You can have it for Breakfast, Lunch, Dinner, or even merienda! They are so popular Even my post on
Maty's
and
DB tapsilog
became one of the most viewed posts in my blog. It was very surprising. So now, I want to share more tapsilogan for you guys! 🙂
First Stop on My Back to Back to Back to Back Tapsilog Series, I present you… SEX!
If you live in the south area, I am sure you have heard of people inviting each other casually, "tara, sex tayo". Now you know what sex is :p
Originated in BF way back in 2004, I remember eating here when their Tapsilog was still priced at P39! They used to occupy this small place along President's avenue. Now, they have a bigger place few blocks away from their previous location, another branch in Aguirre Street, and they have also branched out of BF and opened several branches in other locations.
This one is Located along Alabang-Zapote Road, Almost in-front of University of Perpetual Help, besides Shakey's and Shell Gas Station. A place I Fondly call SEX sa PERPS.
Sex sa Perps is one of their newer and bigger branch around the area. You will be able to experience Al-Fresco dining along Alabang-Zapote Road :p. They offer Clean tables, fast service, and of course great super affordable tapsi! They are open 24/7 too! 🙂
Let's Eat! 🙂
Special Iced Tea P20
Tapsilog P55 Tapa-Sinangag-Itlog
Eggs: Well-Done and the Not-Well-Done! :p
Next to Maty's, this is my most favorite tapsilogan ever! :p Their Tapa is Shredded, Juicy, Tender, and Very Flavorful. It is perfect. The only thing that I don't like about their tapsi is the serving size. It is way to small for me :p I had to take double orders for a full meal:p
The Following photos are taken from SEX sa Aguirre:
Liemsilog P55 Liempo-Sinangag-Itlog
Chosilog P55 Chorizo-Sinangag-Itlog
Embusilog P55 Embutido-Sinangag-Itlog
Of course, my meal here won't be complete without having dessert. Usually I will have a piece of their big Yema, but since they offered this one, I got Hooked! :p I love taho – Hot or Chilled! 🙂
Here is the menu of Sinangag Express..
For more information regarding sinangag express, you may visit their website at http://sinangagexpress.com/.
Next Stop… the infamous Hidden tapsilogan of Kawit Cavite! 🙂
Hanggang Sa Muli! Paalam! 🙂
_________________________________
By: DENCIO
Originally Posted On: www.DENCIO.com
Email Me | Post a Comment | Subscribe to My BLOG (RSS) | Follow me on Twitter