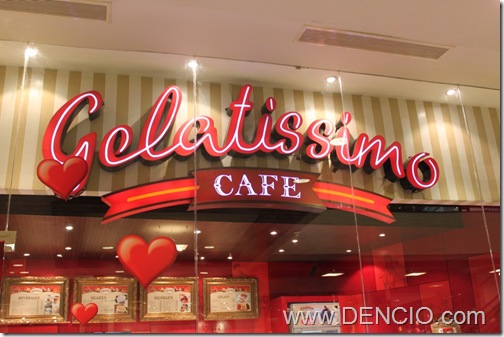 Gelatissimo Café, The Real Taste of Italia
Level 2, Greenbelt 5, Makati City
(Near GB5 entrance connected to the Makati Walk-Way)
Price: 1 Scoop (or Small Cup) P110
Service: Self Serve, Very Friendly Staff and Crew
Serving: Slightly smaller than your regular scoop of Ice Cream
Must Try: Chocolate Truffle!!
Summer is Here!! And when it is scorching hot outside, there is no better way to beat the heat than eating your favorite Ice Cream. But if you are tired of the same old ice cream flavors or you are looking for a somewhat healthier alternative, you have to try Gelatissimo.
The first branch of Gelatissimo in the Philippines is located in Cebu City. Now they opened up a new store in Greenbelt 5. Gelatissimo is originally from Australia and later on, branches and franchises were opened in the Philippines as well as in Malaysia, Indonesia, and Singapore.
Gelato is Italian Ice Cream. It is considered healthier than the usual ice creams since it has less fat and less sugar – But still tastes great. It also comes in different flavors, mostly Gelato's have more flavors than the regular ice cream. It even comes with some exotic flavors like Guava and Passion Fruit!
Gelatissimo Cafe offers a spacious dining area for you and your friends to hang out and try the different flavors of their Gelato.
TIP: One of the hardest thing to do in Gelatissimo is choosing from the wide array of flavors they offer. If you cannot decide on which flavor to buy  (I am sure you'll have a hard time), you can try them first before buying, you can ask one of the friendly crew for a sample of the flavor you want to try.
Now, Here's what you have been waiting for… The Flavors of Gelatissimo.
I bet you are already salivating Seeing those wonderful flavors.
Among those flavors, my favorite and one of the best seller of Gelatissimo. The chocolate truffle.
By the way, aside from the Gelato in a cup or in a cone, they also serve other products like cheesecakes (which I have yet to try) and brownies which look so moist.
Since it is a cafe, they serve cofee and they also, mix up some amazing desserts like sundaes, shakes, and banana splits
Here is the Menu and Sizes of Gelatissimo Greenbelt.
Thank you to the wonderful Gang of Gelatissimo Greenbelt for allowing me to take pictures around the store! 🙂 See you again Soon! :p
If ever you pay a visit, don't forget to ask for a Gelatissimo "That's Amore" Card. You will get a free scoop of gelato on your 7th order.. 🙂
Hanggang Sa Muli! Paalam! 🙂
_________________________________
By: DENCIO

Originally Posted On: www.DENCIO.com
Email Me | Post a Comment | Subscribe to My BLOG (RSS) | Follow me on Twitter