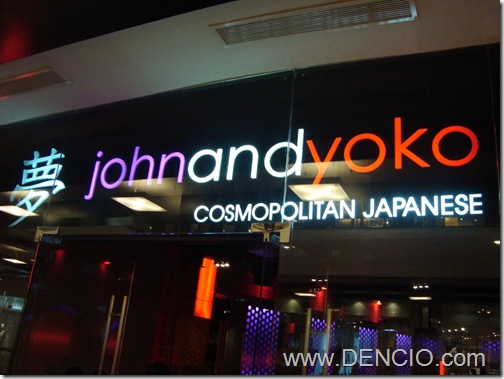 John and Yoko – Cosmopolitan Japanese Restaurant
Level 2, Greenbelt 5, Makati City
(02) 729-8698
Price: P300-500/Meal
Serving: Good for Sharing (2-4)
Reservation: Recommended (They are usually packed, especially on lunch hours)
Service: Attentive and Friendly Waiters
Serving Time: Be prepared to wait 10-15 minutes
Must Try: Chicken Teriyaki and Mango Pizza
Just when you thought that all Japanese Restaurants are the same – Think Again! 
Situated inside the posh Greenbelt 5 Mall in Makati is John and Yoko. My new most favorite Japanese Restaurant in Makati! Why?! 5 Words – Chicken Teriyaki and Mango Pizza! The Best, Non-Tomato Based, Pizza in the Whole Wide World for Me Right Now!!!! And Yes, it is in a Japanese Restaurant. Which I will be introducing a bit later in the post (save the best for last!)
I have been to John and Yoko several times. Most of the time, When I am in the Greenbelt Area, I usually end up eating here for Lunch.
Juicy Trivia for the Pinoy Showbiz Fans: John and Yoko is partly owned by Marvin Agustin. This is one of the several restaurants that he owns/manage.
The place is nothing but traditional. As the name suggests, it has a very contemporary, modern, and industrial feel to it and yet still maintaining some Japanese touches especially on the tables, chairs, and utensils. Unlike most Japanese Restaurants where they decorate their place with the traditional Japanese stuff, John and Yoko's interior, it is very bar-like. Dim Lights, Illuminated patterned walls, bare black ceilings, and Waitresses wearing short skirts! :p (I am not Kidding) Also, If you pay attention to their name tags, the waitresses (and waiters) are named after places or cities – Ex. Richmond and New York. Perhaps they did it for easier name recall, I am not sure, but it sure is catchy.
While waiting for your orders, which is usually served in 10-15 minutes, you can enjoy their hot brown rice tea which is very good I must say!
The menu of John and Yoko is very Extensive. Although they still stick to the traditional Japanese dishes and just added a few modern make-over in the dish name, presentation, and the service.
Like I said Before, and I will say it once More… When it comes to Japanese Food, I only eat the cooked ones :p Sad But True! :p
Based from the reactions of my Officemates, the "raw foods" were great! :p So I will leave it there…
Moving forward…
Sushi Conspiracy (Assorted Sushi) P378.00 (+8%SC)
We Found Nemo (Sushi and Sashimi Favorites) P799.00 (+8%SC)
Big Star Salad P278.00 (+8%SC)
Spicy Tuna Salad P218.00 (+8%SC)
I like this salad. Very simple yet very flavorful. Tuna, Lettuce, Dressing, and Togarashi.
Wagyu Bacon Rice P308.00 (+8%SC)
Wagyu Beef Bits, Bacon and Rice. 1 bowl around1-2 cups of rice. For the serving, it is a bit too pricey for me. But it was good. It could have been better if it was bigger.
Kani Nori Tempura P178.00 (+8%SC)
Ika Fritters with Cocktail Sauce P228.00 (+8%SC)
Ika Fritters P199.00 (+8%SC)
Sukiyaki Soup P348.00 (+8%SC) Can serve 3-4 people
Ebi Tempura (5 pcs) P368.00 (+8%SC)
Crunchy Squid Teriyaki P168.00 (+8%SC)
Tofu Steak P248.00 (+8%SC)
Kirin Beer P108.00 (+8%SC)
Chicken Teriyaki and Mango Pizza P250.00 (+8%SC)
This is my new Favorite! OMG! You must try this! It is very flavorful! Sweet, Crunchy, Salty, mango-y!! Gooood! What's on this Pizza? Thin Crunchy Crust, Teriyaki Sauce, Cheese, Chicken Teriyaki, Sweet Ripe Mangoes, Sesame Seeds, Onion Leeks or Green Onions, and the small, orange-colored super delicious topping which is similar to the one used in making Maki – Fish Eggs! This is so good that all my friends who have tried it agree! I can Eat the entire pizza in one sitting. If I am not mistaken, it is 12" or 14".
 
Some Take-Out for Me!! 🙂
Overall, I really like this place. Although it is not ideal for an intimate conversations since most of the time the place is crowded and people are talking so most of the time noise is present. But in general this a good place where friends can dine and enjoy Japanese Food. The price is a bit steep as compared to the other Japanese Restaurants out there but it is definitely worth it. I can't get over the Pizza so you would probably see me here anytime soon! 🙂
I was not able to take pictures of the menu. You may just go to this link for their Menu.
Hanggang Sa Muli! Paalam! 🙂
_________________________________
By: DENCIO

Originally Posted On: www.DENCIO.com
Email Me | Post a Comment | Subscribe to My BLOG (RSS) | Follow me on Twitter