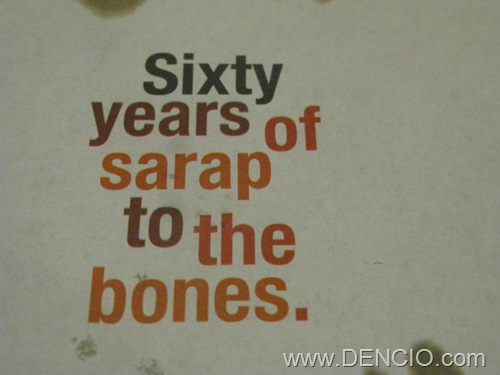 Continuing the celebration of Max's Restaurant's 65th Year, they have cooked up 2 new dishes with heirloom recipes for your dining pleasure!
Last night I was invited to attend their thanksgiving event in Glorietta.
A thanksgiving event for the success of their super successful Chicken-All-You-Can promo last month – Which apparently, I was not able to try (Luckily, that night, they offered the chicken all you can again for the last time! :p Yey! :). And of course an introduction to their 2 new hot dishes!
At the event, I realized that since I was one of the first blogger to share the promo, a lot of their client got the Information from my Blog! 🙂
A couple of trivia regarding the Max's Chicken All You Can Promo:
On the Promo Poster, the guy on the front is a model and the rest were actually real waiters of Max's (They were on the event last night)
The Max's Chicken All You Can record for most number of chicken quarter consumed was – 14 quarters! 🙂 That is almost 4 whole chickens!
As for me.. I was only able to take in 2 1/2 quarters, probably because there was the Binagoongan and Caldereta. Without it, I could probably take in around 4-5 quarters – Max! (WEH!)
Now You See It…
Now You Don't… Sarap to the Bones! 🙂
Together with the thanksgiving party, they also introduced their 2 new dishes. The Max's Pork Binagoongan and Max's Chicken Caldereta.
Max's Serves Up Must-try Family Heirloom Recipes

"16 August 2010 – WHAT better way to celebrate 65 years than to go down memory lane and serve up secret family heirloom recipes?! Max's, the homegrown brand that has recently created public hype with the biggest Chicken-All-You can promotion ever, is back with a hefty plate of new dishes to serve.

"We want to offer our customers something different, yet something very familiar to their taste buds. We came up with two of the original recipes of Nanay Ruby, the restaurant's first cook who developed the secret recipe for Max's sarap-to-the-bones chicken. Our present-day food crowd is in for a once-in-a-lifetime treat as they sample exquisite dishes that have been in the Max's family tradition since 1945," said Marc San Juan, Max's Assistant Marketing Manager for Core Products and Innovations."
Here is Max's Chicken Caldereta (Php 320.00)
(The first photo was provided by Max's, the second photo was the actual thing)
"Another flavorful dish is Max's Chicken Caldereta, a hearty chicken stew in a thick tomato-based sauce and garnished with potatoes, carrots, red and green bell pepper and green peas. This dish has the right level of spiciness and is a perfect complement to a steaming bowl of Max's Sinigang na Hipon."
DENCIO: The Caldereta was ok, I was not jumping up and down. I prefer my Caldereta – Beef. The flavor was very subtle. If I had not known beforehand that the dish was caldereta, I would have confused it with afritada or mechado. The veggies and the chicken were a bit overcooked. Probably because caldereta is really a stew dish. But then again, At Max's I prefer my chicken fried. And My Caldereta Beef.
Now here is Max's Pork Binagoongan (Php 250.00)
"A definite must-try is Max's Pork Binagoongan, tender pork cubes sautéed in a rich, mildly sweet and salty shrimp paste. This classic Filipino dish is served on a bed of fried eggplant and garnished with tomato wedges, fine julienned green mangoes, sprinkled with chopped spring onions. To complete the gustatory experience is a hefty serving of rice and Max's chicken, fried to a golden crisp."
DENCIO: THIS IS A WINNER! Yes, I am jumping up and down now! The meat was tender, some of them were crispy. The bagoong flavor was in every meaty bite! Panalo with rice, but on its own, it was a bit salty. This is my new favorite pork binagoongan now! 🙂 Served in a bed of eggplant and topped with green mangoes and tomatoes! YUM! YUM! Another addition to my Max's Favorites – Sizzling Spicy Chicken, Liempo, Bangus!
Max's Pork Binagoongan and Chicken Caldereta PROMO!
Free Rice and Softdrink for Every order of these 2 new dishes!
"Dine-in customers are in for a big surprise. They can troop to any Max's Restaurant nationwide from August 16 to October 15 to try out any of these two new dishes. They will be served with a complementary serving of white rice and a Pepsi softdrink – it's absolutely free, for dine-in only! Max's Pork Binagoongan and Chicken Caldereta are also available for delivery. Customers just need to dial Max's delivery hotline 7-9000 or call the nearest Max's provincial branches to sample Max's new classic dishes, á la carte.

With the new promo for dine-in customers, everyone can expect another satisfying indulgence from Max, the house-that-fried-chicken-built. No time to waste, queue up and be the first to try out Max's new Pork Binagoongan and Chicken Caldereta!

Enjoy the best promos and the most scrumptious dishes. There'll be more to come as Max's celebrates 65 years with the loudest bang! Log on to www.maxschicken.com or visit www.facebook.com and sign up for Max's fan page."
There I was with my Friend Karen… and the Chicken all you can waiters! 🙂
Hanggang Sa Muli! Paalam! 🙂
_________________________________
By: DENCIO

Originally Posted On: www.DENCIO.com
Do You Like This Post?
Subscribe to the RSS Feed
Follow me on Twitter
Like me on Facebook
Email Me